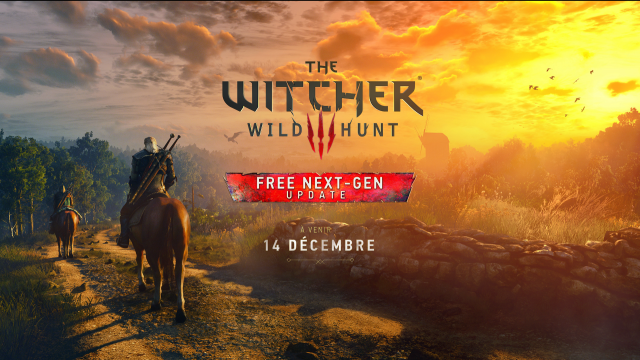 Plus de détails et révélation de gameplay sur REDstreams la semaine prochaine.
La mise à jour next-gen gratuite tant attendue pour The Witcher 3 : Wild Hunt sortira le 14 décembre 2022 !
Améliorée en tenant compte de la puissance des consoles next-gen et du matériel informatique actuel, la prochaine mise à jour proposera des dizaines d'améliorations visuelles, de performances et techniques, notamment la prise en charge du ray tracing, des temps de chargement plus rapides sur consoles, une variété de mods intégrés à l'expérience, et bien plus encore ! En outre, nous ajoutons un ensemble de DLC inspirés de la série The Witcher de Netflix, comme de nouvelles armes et armures pour Geralt et des looks alternatifs pour certains personnages.
La mise à jour next-gen est gratuite pour tous ceux qui possèdent déjà une version du jeu. Pour ceux qui n'ont pas encore le jeu, une version next-gen dédiée, The Witcher 3 : Wild Hunt - Complete Edition, comprend toutes les améliorations, les DLC gratuits et les extensions de l'histoire : Hearts of Stone & Blood and Wine, sera disponible à l'achat en version numérique sur PlayStation 5, Xbox Series X|S, et PC, avec une sortie physique à une date ultérieure. La Nintendo Switch recevra la mise à jour plus tard.
En plus de la sortie next-gen, les versions PlayStation 4, Xbox One et Nintendo Switch de The Witcher 3 : Wild Hunt recevront également une mise à jour comprenant de nombreux ajouts et améliorations, ainsi que les DLC Netflix sur le thème de Witcher. D'autres détails, notamment la date de sortie, seront annoncés prochainement.
Si vous voulez en savoir plus, ne manquez pas les REDstreams la semaine prochaine sur notre chaîne Twitch pour découvrir en exclusivité la révélation du gameplay next-gen et les détails des changements à venir.
À bientôt !