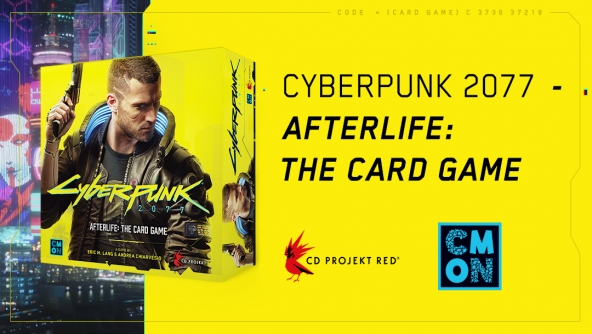 Siamo entusiasti di annunciare Cyberpunk 2077 – Afterlife: The Card Game, un gioco di carte standalone creato in collaborazione con l'editore di giochi da tavolo internazionale CMON!

Cyberpunk 2077 – Afterlife: The Card Game getta i giocatori nelle oscure vie di Night City, dove gang spietate si scontrano con le corporazioni in una guerriglia infinita per il potere, il denaro e il controllo.
Nel gioco, diventerete dei fixer — spacciatori di dati e le menti di Night City. Il vostro lavoro consisterà nel reclutare dei cyberpunk, fornire loro equipaggiamento e spedirli in missione. Ogni missione compiuta aumenterà il vostro Street Cred, con i veterani sopravvissuti, che infonderanno la loro conoscenza e esperienza a nuove reclute. In questo mondo interamente cromato, lo Street Cred è l'unica valuta che conta.
Nulla è economico a Night City. Sarà necessario ponderare cosa vorrete e cosa potrete permettervi. Attraverso una meccanica di pescaggio innovativa e un'interfaccia accattivante, dovete decidere quali carte vorrete acquistare e quali sacrificare per comprarne di nuove.
Cyberpunk 2077 – Afterlife: The Card Game verrà pubblicato nel 2020.