Here there is an invisible crowd cheering and screaming. Perhaps this is supposed to be a quest for future DLC or something that was cut, Police barricades are set up and there is not a marker for gigs/sidejobs. It's odd.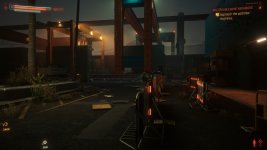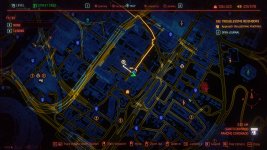 On this stairwell; There is a collison mesh at the top which halts my ascent - I have to shimmy along the edge, into the wall or use reinforced ankles to jump over it. The mesh does not impede descent.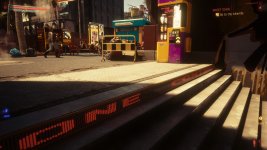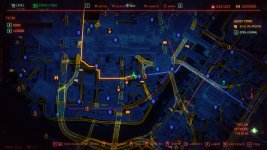 Missing backface/texture/etc. I can see through this overpass.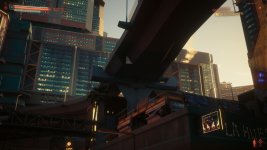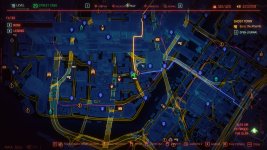 Post automatically merged:
For some reason it was decided to use alpha textures with a height map for mega building designators instead of just modeling the numbers. What happens is that Ray Tracing, reference 'physical' data in the scene, causes the mesh plane, which carries the texture, to cast a shadow behind itself. The emissive effect that should be happening in the evening is lost, leaving an odd halo around the invisible plane... This doesn't happen without Ray Tracing enabled, but it also means that no light is cast on the surrounding geometry because there isn't an actual light there of course... and you lose all the effects of RT diffuse/AO of course.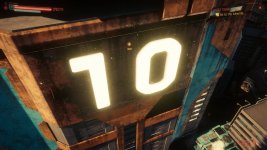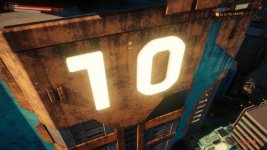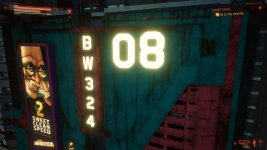 I'm at a loss; This literally only takes seconds in 3DS Max, Maya, Blenders, etc. If the reason was to save resources; It would be an odd way to do it considering so much is going on in the player viewport anyway, so it's not like the engine can't handle 3D numbers. The maps are relatively clean, so there must be a considerable number of triangles being rendering here; The actual data for the depth is baked, but the game logic, CPU, GPU, what have you still need to render the triangulated mesh. Modeling the numbers could possibly result in less geometry as well.
Last edited: