Disclaimer:
I am not, and do not claim to be, any sort of a "pro".
So, you've been using the forums and maybe bolding text, inserting links, or placing content inside spoiler tags. In other words, applying BBCode in your posts. It's a rather nifty feature, but it can go wrong. One of the most common issues (one that often happens to me as well) is bold/italic/underline failing to "close" properly and continuing all the way to the end of the post.
This is a quick guide to basic BBCoding, demonstrating the most common functions and how to use them manually. I find it's sometimes fun to not use the buttons in the message editor and insert all formatting using my keyboard instead.
---
First off, the cog button in the message editor lets you see your post in its 'raw' form; all the applied BBCode will be shown as text.
NOTE
:
Codes are case insensitive
. I always use lowercase when manually coding because it's easier. If you use the editor buttons (like I did with that disclaimer) it always puts everything in uppercase.
1. Basic formatting
[b]Example 1.[/b]
Example 1.
[i]Example 2.[/i]
Example 2.
[u]Example 3.[/u]
Example 3.
2. Links
Links work as basic copy/pastes:
https://forums.cdprojektred.com/index.php?forums/community/
Stylish links like
this
:
[url=https://forums.cdprojektred.com/index.php?forums/community/]Community forum.[/url]
You can insert links without the https:// at the beginning. This is useful for preventing YouTube/Twitter/Reddit links from embedding.
Here's an example link without the https:// :
www.youtube.com/watch?v=qIcTM8WXFjk
(it's the Cyberpunk 2077 E3 2019 trailer)
3. Additional formatting
[spoiler="Spoiler"]You found me![/spoiler]
Simply leave out the ="Spoiler" to get a spoiler without a title.
Also works without the quotation marks; =Spoiler will work just fine.
[quote]Quote[/quote]
You can also do
[quote=You]Quoted text.[/quote]
to get
You said:
Doesn't have to be 'You' as the "name"; that's just an example.
[s]Strikethrough![/s]
Strikethrough!
4. Smileys
All of the emotes have their codes that can be used to manually add them. For example:
is
:think:
is
:cool:
You can see the emotes' codes by hovering over the emotes in a message, or in the editor.
5. Lists
[list][*]An
[*]unordered
[*]list.[/list]
[list=1][*]An
[*]ordered
[*]list.[/list]
An
ordered
list.
6. Images
Uploaded images cannot be inserted without using the editor tool. Images with a URL, however, can be manually coded in.
You'll need the image's URL that contains the filetype (usually .jpg or .png), and then simply put that inside [ img ] tags (no spaces). For example:
[img]https://www.randomlists.com/img/things/candle.jpg[/img]
to get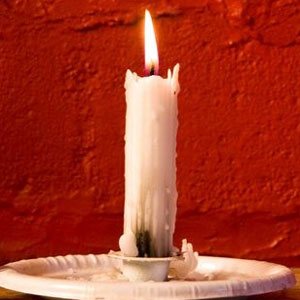 ---
You've reached the end of this mini guide; like I said, it only covers the basics. If it was useful, great. Even if it wasn't useful, thanks for reading!