The elephant in the room:
The color system in items to put on a really polite way but is weak and far away from creative and not what I expect from a dev with CDK pedigree, its basically bootleg World of Warcraft color scheme on cyberpunk, some might argue that Witcher 3 had this but the main focus and power were from the craftables.
So this item system harms core aspects of this game, player agency over their appearance and character progression.
The current system involves me picking armor and weapons from the ground with best numbers, there is no rule for which piece of armor will have X status, its just oh big number let me equip it, the giant world that CDK crafted won't bat an eye if im running with my dick flopping away or looking like MaxTac Soldier. Immersion wise its horrible.
Stores in this game reminds me of D2 Gamble NPCs they don't have their own catalog, their own weapon store identity catalog, its just ok which store is selling the BIG number weapon type I wanna use. I went to a store that is supposed to sell the top threads, rich boy stuff. You know what they were selling? Military armor, net runner gear, animals gear(wut?). No suits, no threads that would reflect a rich corpo vestuary.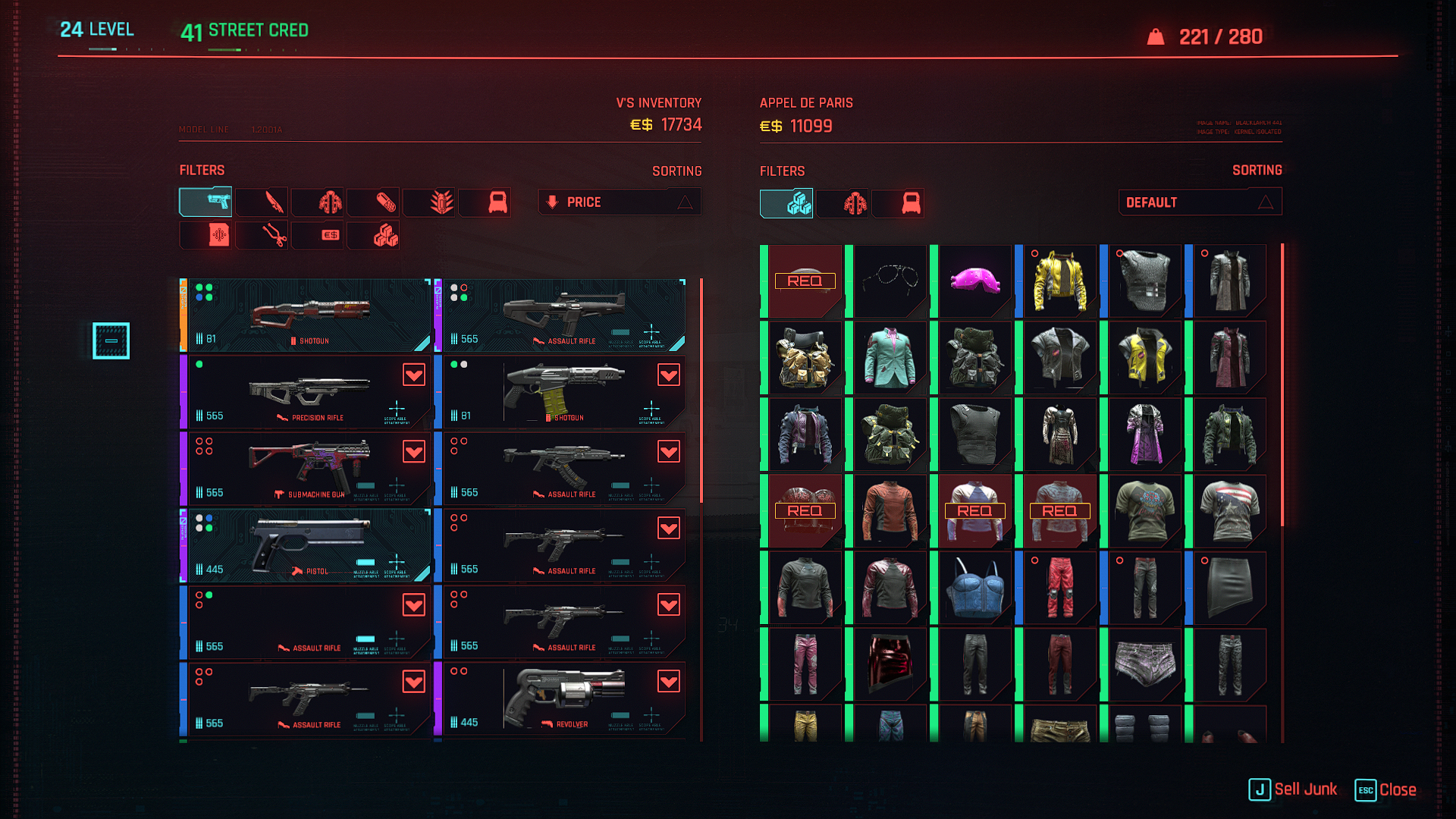 I wish there was the people responsible for this and the person who greenlit this right now to tell me with a straight face that this looks like the inventory of a place with the name Appel de Paris would sell.
Crafting system is just get materials and craft big number gun, no interaction, no animation, nothing that shows your character is putting effort on their gear. No quests to talk about this important aspect of a Solo in night city.
One of many possible ideas for fixing this:
Scrap the color system, no place in cyberpunk imo, ruins immersion because I will always remember WoW. Put classifications:
-Factory produced - mass produced guns standard stuff, put a joke regarding warranty here
-Craftsman Signature - Gun have the paintjob and style from a certain craftsman, high grade stuff here
-Second hand production or Shoddy - its a lower quality gun where it can jam or even blow up - Can be used by V's that specced into craftsman to salvage parts for guns
And what you call Legendary, feed me some lore on why this gun got the legendary status or even have specific guns that can be only acquired through certain gunsmiths make the player be aware that the gun he is carrying is not one of the many out there.
Clothing/Armor
A cheap solution for this, turn all the clothing pieces into appeal slot, so you collect then and then in a separate UI you will decide V appeal that's it, shouldn't be hard to implement this, its basically a new UI. And keep the current ooga big numbers system in a row called "armor" where V is basically reinforcing his kevlar under his clothing I guess? But at least with this band aid fix you allow players to actually look what they want and have something else to strive for, the consumption of clothing
The solution that requires time, certain types of clothing makes you harder to be catch a glimpse in the crowd and makes easier for infiltration but the downside they are light armored stuff, so don't plan to engage in a gun fight with that kind of threads. Have the heavily armored stuff, military grade gear have high armor value for gun fights, the downside is if enemies see you wearing this they will open shoot on sight because they know the guy that looks like bloody tank is up to no good and they will call reinforcements depending on how much heat you are packing. Hell could even implement a suitcase to carry your armor and heavy weaponry inside of it and use to infiltrate a place and start the fire fight from a strategic point or hire someone to put your special gear in X place inside the mission. Have NPCs not willing to talk with you if you are looking like Space Marine.
Crafting:
The current system is what you see in any mmo now days, gather material , click and poof item show up.
Solution for an engaging system:
Allow V to have a workbench, where he can customize the paintjob, decals in his guns. If someone is speccing into craftsman allow him to express himself as a craftman, so when he pulls out his own creation he knows that V gun.
Allow craftman V to play around with the guns, adjust its spread, fire rate, of course with downsides if the person decides to tweak those aspects of the gun, allow him to craft special ammo like armor piercing, dragonbreath rounds, shock rounds and so on. Instead of making the guns look like a cheap copy of Borderlands make then RPG stuff for real.
Stores:
Actually put items where they belong, if its a small local store it should reflect on weapon brands available, if its a bigger store you change the catalog accordingly.
Have a dedicated place to sell military gear, allow us to go through the damn black market to acquire high grade stuff, don't sell it in Joe's Nobody place or even in sodding Appel du Paris, it makes no sense and just serves the purpose to ruin everyone's experience.
Sorry if I sound rude but this current itemization system don't reflect what an AAA product should be.