GWENT SUGGESTIONS ABOUT GERALT JOURNEY RETURNS
First of all, I would like to state that I am a big fan of Gwent and have been playing the game for a long time. I was very happy when I learned that old journeys will returns with Roadmap. The things I want to suggest will be about Geralt Journey Returns, as you know Geralt is exactly the most loved character in the witcher universe. But Since it is the first added journey character, it remains dimmer and less customizable than other characters. For example, if you look at Ciri Yennefer and Tris, you'll see that they have tons of accessories. I think Geralt should be at least as customizable as they are.
1 - Head Accessories
A) Unmasked Versions of Hair
We can't even apply the hairs in The Witcher 3 to him, hair changes with our choice of mask. and you can't even use the unmasked version of these selections. First i think you need to add the hair we have in geralt The Witcher 3 game. I know these are added with masks, but I think they should come with unmasked versions. And of course, let's not forget the
beard
.
B) Face
-
Geralt's scary face, which we turned into after drinking too much potion, should definitely be added.
-
Geralt face can also be added bearing the stamp of Gaunter o'dimm.(Without Donkey Ears)
2 - Outfits
A) Grandmaster Feline Armor Set and Grandmaster Griffin Armor Set
We Already Have Wolf, Bear, Manticore and Kaer Morhen Armor Set you should definitely add the Grandmaster Feline Armor Set and the Grandmaster Griffin Armor Set to these. By the way It would be really nice if Undvik armor was added as well.
B) Another Design And Color Of Armor Sets
I think you should add versions of some outfits with different designs and colors, like in Yennefer and Tris. In this, the witcher gears in The Witcher 3 are very suitable.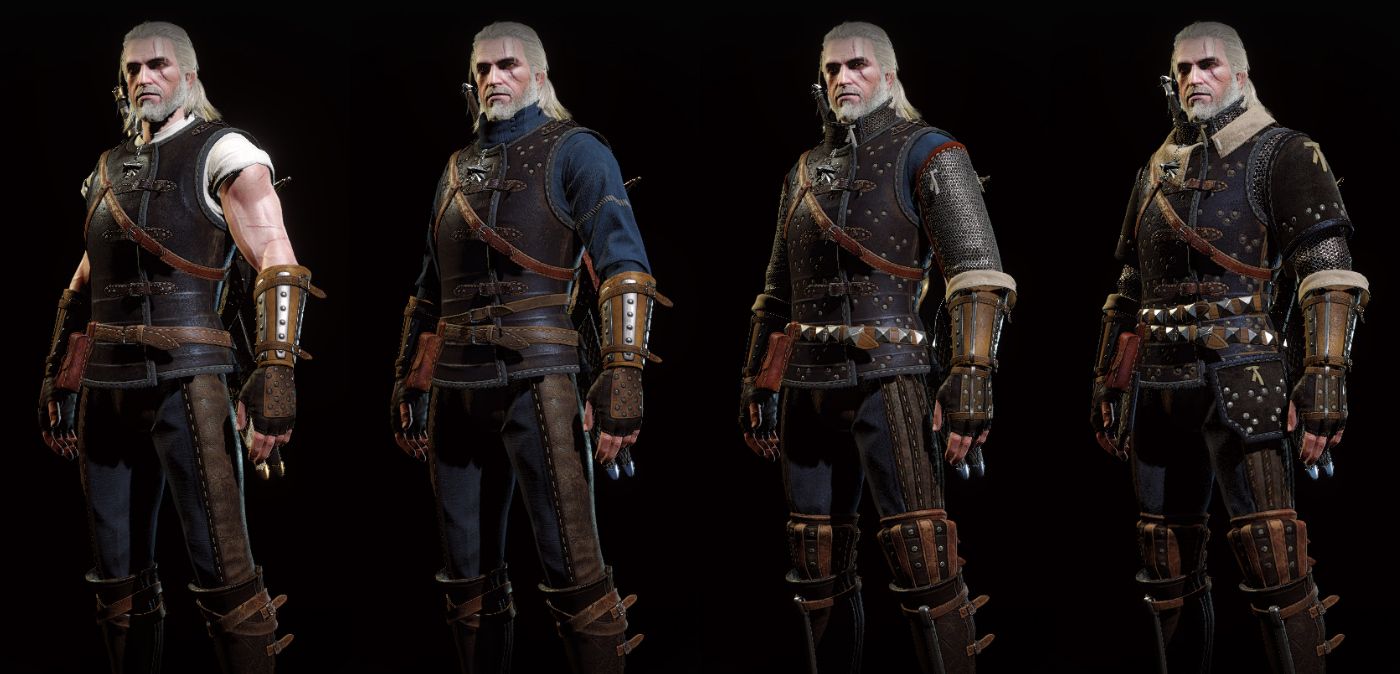 3 - Swords
A) New And Runestoned Swords
When we look at Ciri, we see very good swords like Silver Zireael, which is really great, but Geralt's swords are really bad, I think much better swords should be added. and the first of these is
Aerondight
. And I think the silly weapons placed in place of the second sword need to be removed, the war hammer placed next to the Iris sabre that would normally look good looks really ridiculous. Adding compatible with each other swords like Bloed Aedd & Silver Steiger seems more appropriate.

4 - Aura
Actually we don't have any aura on Geralt, instead of this part there are mugs but I think it would make more sense to introduce some effects instead.
A) Sword Effects
You may remember the cool effects Geralt had while swinging his Enchanted sword in The Witcher 3. I think that special effects can be added to Geralt's sword instead of the auras found in classic characters. At the same time this would be a nice feature that distinguishes it from others.
B) Classic Aura
Or, as with other characters, cool auras can be added instead.
Last edited: