Hey everyone,
I'm a huge music nerd, especially when it comes to synths, and I've been fascinated with the various snippets of the Cyberpunk 2077 soundtrack that have been posted on social media by Marcin Przybyłowicz and P.T. Adamczyk, two of the composers of Cyberpunk 2077's music. He's been using some really awesome hardware synths and other devices to bring the music of the dark future to life, and I wanted to do a little mini informal write-up to discuss and explain some of the pieces of hardware that he has shown us that is being used, for anyone interested Hope you enjoy!
The first piece of hardware we saw Marcin and P.T use was in these snippets:
Marcin is using a Folktek Mescaline modular synthesizer, which means the tones, beats, and electronic rhythms were created manually, and not sampled from elsewhere, almost akin to circuit bending. Many modular synths respond directly to the conductivity of your body, even. The top panel of the synth is where the beats come from, and it has a bunch of dials that you can route through your circuit to blend pathways (The middle part of which is a black grid of unlabeled LEDs that trigger different sound effects/modulations). The Breadboard lets you alter the synth circuitry yourself, and the lights are for the trigger sequence when it runs. The middle panel is for sequencing, and the bottom is where it conducts when you touch, with different effects programmed into the DSP chip. P.T, in the second clip, is also using a Space Blackhole reverb pedal, with affects such as delays, tad tempo, with metal foot switches and guitar/line level inputs and outputs. A really cool way of creating synth music, with some nice reverb, perfect for that gritty, industrial sound embodied by the "High tech, low life" aspect of Cyberpunk.
Pics: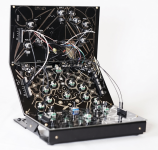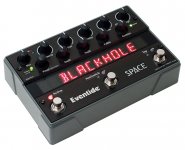 The next synths we saw are from this clip:
http://instagr.am/p/B2yiHTIjxLI/
The top keyboard is a monophonic analog synth. The difference between an analog and modular synth is that a modular synth is made up of separate modules that can be mixed and matched, whereas an analog synth is one that uses analog components, not a microprocessor. The synth on the top is a Moog Sub 37, which makes a really nice gritty bass. The bottom is a Polivoks, a Russian duophonic analog synth made during the 80s in the soviet union. Mike Gordon famously used one for the Doom 2016 soundtrack. It has a very unique, retro sound- not clean at all, but certainly powerful and fat.
Pics: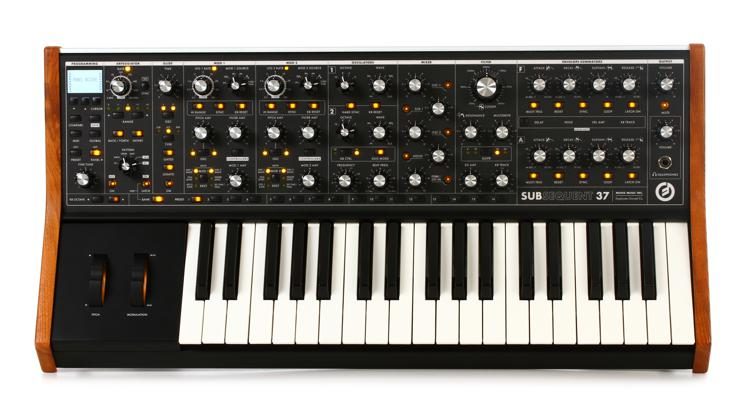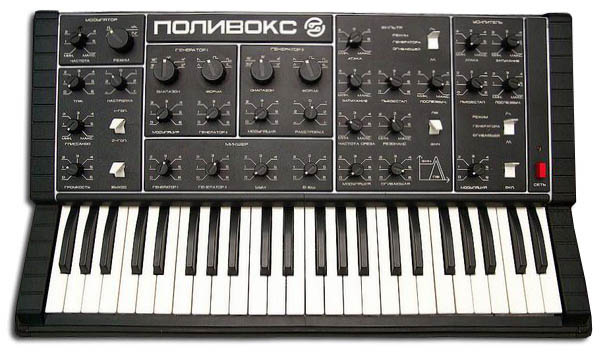 The most recent clip he has shared shows him using an entirely different piece of hardware:
He is using a Gamechanger Plasma Rack, which is, as Marcin stated, a distortion unit. It is a rack version of a Plasma Pedal: a device that uses high voltages in a xenon tube to generate gating and distortion effects, particularly as a studio effect. It conducts audio signal at voltages of up to 5500 volts. Essentially, you are playing electricity, and the discharges are converted into analog audio signals. This results in a very responsive, thick, and raw coloured audio distortion. It's a very unique piece of hardware, and has a very nice noise-gating effect. It also has various functions such as sustain, oversaturation, a tremolo mode, ect. He's also using some other distortion units, such as a ProCo RAT 2 Distortion Pedal, which has cool effects such as distortion, fuzz, overdrive, and a bunch of other cool stuff.
Pics:

I'm really facinated by the creation of Cyberpunk 2077's soundtrack, and love a lot of the hardware he is using. It really creates a nice NIN-inspired, scuzzy electronic sound, perfect for the streets of Night City, whether it be action packed or atmospheric. I'm also fascinated by his decision to use hardware synths as opposed to software synths. Soft synths have improved greatly over the years, and are now virtually indistinguishable from hardware synths! I suppose Marcin very much enjoys the process of physically turning the knobs, pressing the buttons ect. It's certainly a very enjoyable experience, and the physicality aspect of creating music like that is valuable. You could always get a physical controller (such as a MIDI controller) for software synths, but I suppose it isn't quite the same. Regardless, it's very cool stuff in my opinion. Part of me wishes the synths were more present in the SAMURAI music, as the band even had an important synth player in 2020 lore, though that still has a very cool hard punk rock feel, with great dark and thick guitar: very fitting of the universe nonetheless! Overall, I adore the direction the soundtrack is taking. Marcin's transition from Slavic folk music to punk rock and industrial synths really outlines his versatility as a composer and musician, and he is doing a wonderful job with the music of Cyberpunk. I hope you guys enjoyed this little mini explanation of a few of the pieces of hardware he is using, and I can't wait to hear the full OST!
Last edited: