The content in this area will change soon.
if you're trying to read the story scroll down and start with the
EPILOGUE
.
Setting:
The story takes place in The Witcher Universe, eight years after the events of BLOOD AND WINE. The story is meant to exist and be canon with both books and games, as much as possible.
How can it be written so that it's canon to both books and games?
I view the events in the books and especially the games (as told by Dandelion), like all writing and historical documentation, subjective to a degree. View my story the same way. These is a tale told by a writer and it's your choice to decide what's fact and fiction.
How can you stay true to the books and the games?
By staying in between the lines. Did Regis come back from the dead or was that an element Dandelion added in his tale to add drama? That's for the reader to decide and for the most part you can trust that my story won't make these decisions a
fact
inside it's world. Character's
opinions
of events are vastly different matters. I think that's the best way to blend the books and games together, and remove anything that was a bit too, "boss fight" or "never ever land".
Well that's not a very book-like format...
It's currently written in "Hollywood" screenplay format, albeit far too descriptive, too dialogue heavy, and format limitations, but I might try to implement some more traditional book elements later on. Started to center the dialogue, but in sentences longer than one line it looked like trash in my opinion.
An immersive witcher experience...
Don't underestimate how embedded the witcher universe is. If you truly are a witcher universe historian, I like to think you'll appreciate the accuracy and a lot of the references. Give it time to emerge. Only thing else I can really say is trust the process. The story evolves. Starts slow but there was a ton of thought put into the setting, timeline, story arc, etc.
When will it be finished?
Should be able to finish it this year barring internet issues. I expect there will be multiple chapters and series to the story before it's closed. Currently have to use a mobile hot-spot off the phone to get access to the internet. Impossible, for me personally, to do this from a phone.
WARNING:
There are writers out performing on the "death march" difficult level when it comes to writing quality, novel-like content, and being up to par with professional writing - I am not that writer - I'm on story mode. I like to think of it as movie mode. It paints a visual and accelerates you through the story like a movie, but doesn't dismiss the necessary details to tell a pretty cool tale in the process.
Any helpful hints, tips, and suggestions are appreciated.
TABLE OF CONTENTS
EPILOGUE
CHAPTER 1: THE INDOLENT WITCHER
CHAPTER 2: FOOD FOR THOUGHT
CHAPTER 3: ART OF PERSISTENCE
CHAPTER 4: A WITCHER'S SQUIRE
CHAPTER 5:
CHAPTER 6:
CHAPTER 7:
CHAPTER 8:
CHAPTER 9:
CHAPTER 10:
CHAPTER 11:
CHAPTER 12:
CHAPTER 13: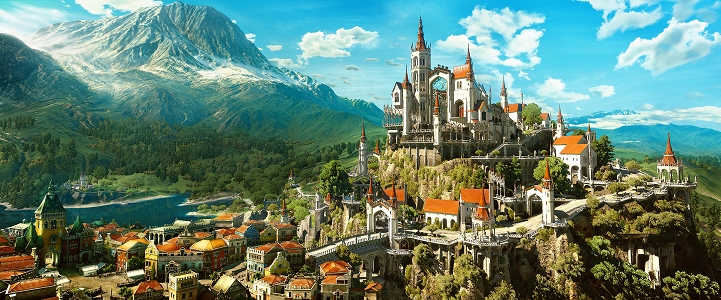 EPILOGUE
​
EXT. BEAUCLAIR, TOUSSAINT - DAY
Spring, 1283 - It's been eight years since Toussaint's capital of Beauclair was attacked by an elder vampire Dettlaff van der Eretein and his vampiric horde. This event has been dubbed as "The Night of Long Fangs" by scholars and historians but the circumstances surrounding that evening have been heavily disputed. It's a virtual consensus that Dettlaff was "The Beast of Beauclair" responsible for the killing spree of knights in the weeks prior to the attack on the capital, but there's a hundred different tales as to what triggered it as time has only blurred the lines of fact and fiction to make the truth even more obscure.
The events following the attacks eventually lead to a regional cleansing of vampires. Initially there was political resistance from Toussaint's more notable houses and factions regarding the potential dangers of promoting a vampiric genocide, most were genuinely concerned about provoking future attacks, but the slightest resistance was bound to lead to accusations that the court of Beauclair and the upper echelons of society were infiltrated by vampires. This was only partially true, in reality the actual influence vampires had on Toussaint politics was minimal - likely by choice, considering human politics trivial - but that didn't stop conspiracy theories from circulating.
Shortly after the Witches Trials ended in 1276, a prominent count was ousted in Beauclair as a Bruxa and executed by a witcher. This incident lead to a series of tense but mostly non-hostile protest until The Lady Duchess passed a bill called "Avec Leur Tête"
(translation: 'off with their head')
to finance a bounty program through the Ducal Camerlengo that offers a reward for every vampire head brought to it's office.
The results were promising and the capital felt a sense of retribution. On more than one occasion entire enclaves of their species were uprooted and wiped out. But like with all witch hunts and genocidal agendas, there were innocents and bystanders caught in the occasional crossfire, especially in the earlier years, but the madness dwindled. For a time hunting a vampire became a regular rite of passage for the Knights-Errant of Toussaint, but in recent years the pursuit of their kind has faded drastically. Nowadays vampire sightings are rare and reported attacks have become an anomaly. The Ducal Camerlengo's bounty program is still active and has attracted several witchers to the Duchy over the years, with one such witcher still residing there to this day.
This is the story of that witcher...
Last edited: