Creating custom cards for Gwent is fun, I enjoy it a lot. However, after a while it was not enough for me, so I decided to step the game up and design a whole archetype, since players can hardly appreciate a custom card existing in a vacuum, without a context around it.
I found Specters in Thronebreaker quite interesting and was truly puzzled when they did not make their way in Gwent. This was my inspirational spark. However, in order to make Specters work, I had to come up with a different mechanic, something that the whole archetype would revolve around and at the same time to be compatible with Gwent.
I came up with two mechanics instead.
Haunted
: Incapacitate an enemy unit for (X) number of turns.
Ethereal: Whenever a Wisp is summoned, boost self by 1.
To put this new info into context, here come the first two cards (out of 16):
Jenny of the Woods
is a card that combines both mechanics.
Immune. Ethereal.
Deploy: Spawn 2 Wisps and Summon them to both sides of Jenny.
Spawn a Wisp and Summon it to this row whenever an enemy unit gets Haunted.
If there are no Wisps adjacent to Jenny, destroy self immediately
.
She is immune, yet not invulnerable.
Wisp

Doomed. Ethereal.
On Summon, boost self by the number of other Wisps under your control.
Wisp
is a token card that spawns and summons whenever X event happens on the board. The idea is, the more Wisps you control, the more powerful your Specters will be. A wisp is the bread and butter for Specters. It is a slow engine but an engine still (originally its ability was just "Doomed, Ethereal" but later I realized that in a Meta rife with 1 damage pings it will not stick on the board.)
EXAMPLE:
1. When Jenny is played and there are no other Wisps on your side of the board, the configuration appears like this (2-3-2) Jenny is in the middle. Both Wisps boost themselves by 1 and Jenny boost self by 2 (1 for each summoned Wisp)
2. When Jenny is played and you control 1 Wisp already, the configuration will be (3-3-3).
3. When Jenny is played and you control 2 Wisp already, the configuration will be (4-3-4).
And so on...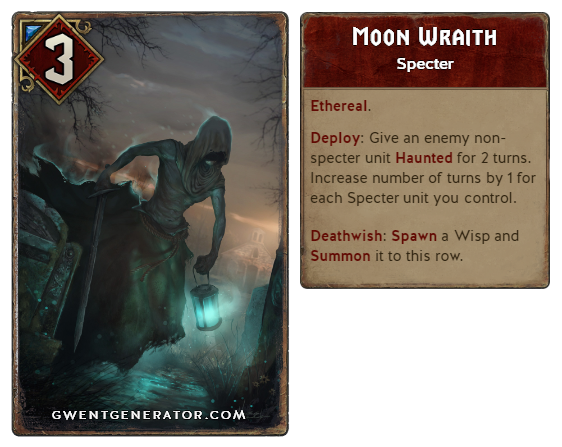 This is your low provision bronze and the first tool to bestow a
Haunted
status. It's a reactive card to inactivate enemy engines for a few turns. Its Deathwish ability (and almost all other Specters') serves as a tool to bring more Wisps on the board. Lore: Source energy do not fully disappear, it transforms into something else instead. Specters are basically a purpose-driven form of Source, so whenever they "die", their source energy transforms into Wisps.
Noon Wraith
(edit: card is on the bottom of the post, don't know why) is another bronze and it's the card that rewards haunting. Think of it as the Specter Nekurat. You can trigger it every turn, yet its ability is more conditional.
Phantom of Eldberg
(the typo on the card is intentional, since Gwentgenerator has a digit limit).
Yet another card that bestows
Haunted
. A gold that triggers its deploy ability whenever you control 2 Wisps. Huge body, yet dissolving and needs to be maintained. OR it's just another way to get a Wisp on the board.
I strive to refrain from giving cards a single ability and
Barghest
is another example. Think of it as Slyzard and Cyclops combined. You can use it to eat your own units and bring more Wisps on the board OR use it as a control tool and sacrifice one of your Wisps (gotta pay the price, you know). It's also a Beast, so it's vulnerable to Vainglory (I so want Vainglory to be a thing).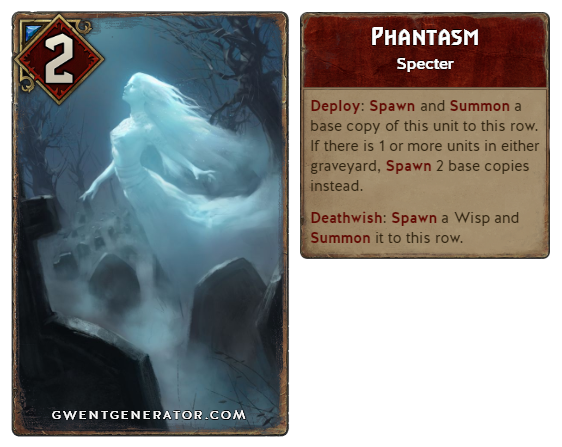 This is your card whenever you want to bring on the board more Wisps and fast. It's a low cost unit that has a small body. Obviously, synergizes well with
Barghest
(but not only).
Annabelle
can be used both defensively or offensively. Pay heed that it does not specify what Specter her target is. There are many other Specters already in game (E.g. Revenants, who just happened to be 3 power). You can damage an enemy Specter and then boost your engine OR you can damage your own Specter (E.g. Phantasm) and then boost an enemy Specter to bring it to your Geralt's range. Choice is yours.
A pro-active play. Whenever this guy receives damage, he splits in two halves of himself instead. And guess what, both halves are
Ethereal
. And if those halves receive damage again, they split into quarters, each with 1 power.
He could also serves as another potential target for Annabelle, if need arises.
The artifact for Specters and a
Haunted-
status generator. Not much to explain here.
To be continued...
Post automatically merged:
Your thinning tool that gives you 3 turns to set up the board before the new Wisps drop in.
(Edit: "If you control a Specter" would be a more suitable condition for this low bronze card)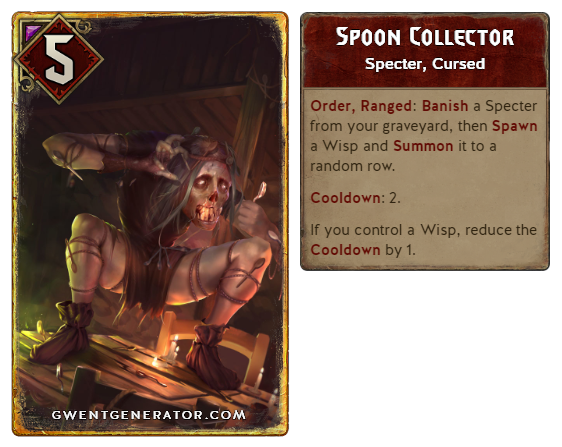 Get a new Wisp on the board (all other Wisps proc), eat it and then damage an annoying enemy. The bigger the Wisp, the higher the damage. Also, it is a boost target for Annabelle.
Fuse 3 allied Wisps into a big one. You lose 3 x 3 points and gain 9 points, so just by itself it is not a tempo play, but in time it pays off.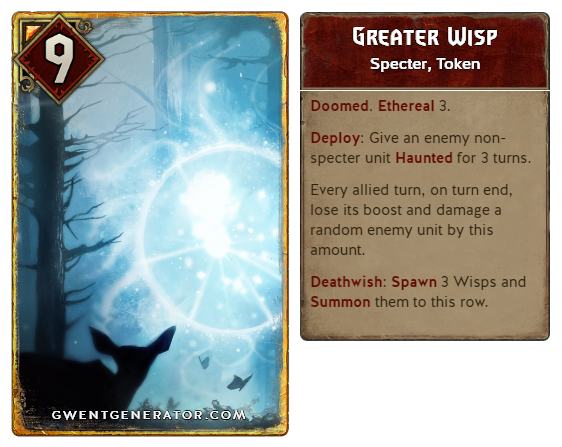 Greater Wisp
puts a body to 3 of your Wisps whenever you want to play around Yrden or any other de-boosting enemy unit. You might lose value in quantity, but you certainly gain value in quality. It's a token, so you cannot replay it. Whenever it dies, it dissolves back into 3 Wisps, so it makes your opponent question himself if they really want to use their tall-card removal.
These are all the cards that I have come up by far.
However, for this archetype to exist, I think Kayran's ability should be changed to: "Consume an allied non-specter unit." or else it will be too powerful. But I might be wrong. Would like to hear your comments.
Last edited: