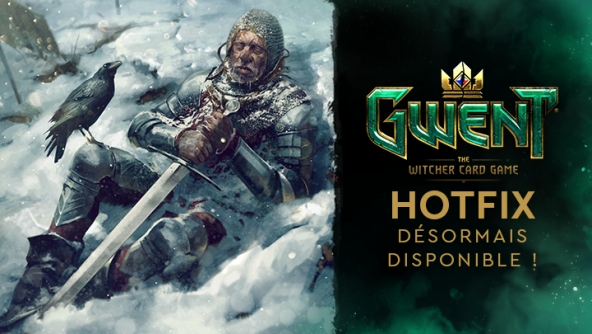 Les correctifs pour GWENT: The Witcher Card Game et Thronebreaker: The Witcher Tales sont désormais disponibles pour PC et PS4 ! Avec cette mise à jour, notre priorité est d'améliorer la stabilité et les performances sur consoles.

Liste complète des modifications :
Correction d'un problème causant un crash de Thronebreaker et du multijoueur de GWENT sur PS4 Pro et PS4.
Correction d'un problème causant une chute d'IPS en accédant au créateur de jeu dans GWENT et Thronebreaker.
Correction de problèmes mineurs de l'interface utilisateur.
Correction de divers contrats en jeu (GWENT).
Correction d'un problème causant un freeze lorsque le joueur accédait au mess (cantine des officiers dans Thronebreaker).
Ajout de la langue chinoise à la version GOG du jeu (Thronebreaker).
Diverses améliorations de la stabilité et autres corrections.
Sur Xbox One, le correctif sera disponible dans les jours à venir. Pendant cette période d'attente, les joueurs et joueuses Xbox ne pourront jouer que contre d'autres joueurs Xbox. Le matchmaking pour cette version sera ajusté temporairement de manière à raccourcir le temps d'attente.