I thought I might get this thread started early
About easter eggs in CP2077. Theres already been quite a few, not counting any references to CP2020 or the RPG. Lets discuss them here. Needless to say this thread involves spoilers, so if you want to find these yourself, stop reading now.
*
- If you choose the corpo origin, you can explore your own office in the Arasaka building. In a your desk drawer there is a magazine with Ciri on the cover. This easter egg seems to imply that witcher 3 is a video game in CP universe.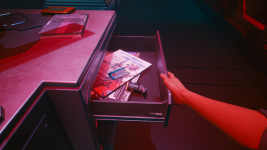 - The luxury car V is supposed to steal in the Street kid prologue is called "Rayfield Aerondight".
Aerondight is
a legendary sword in the Witcher
.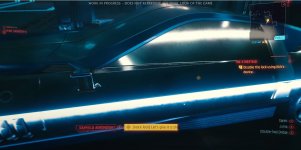 - Another model of Rayfield ingame is called Caliburn. Caliburn is a steel sword in the witcher.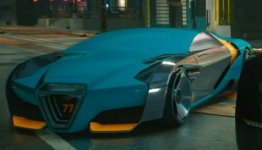 - In the deep dive video, when V hacks the netwatch agent Bryce Mosley, you briefly see a net map of USA with an overlay of Netwatch agents. One of these agents is named "Roach".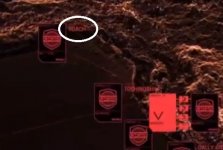 - Apparently, several real world people and particularly content creators (I think devs too, maybe?) are in the game as characters.
There is a sidemission where a man is calling for help on the street cause his Mr.Studd implant has apparently malfunctioned and caught fire. He is begging for V to take him to a ripperdoc. That man, if I'm not mistaken, is
youtuber Jesse Cox
. The information about the mission comes from a different source, but I just connected the dots. EDIT: He is known as the "Flaming crotch man".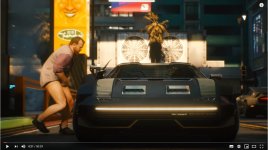 Real-life streamer Alanah Pearce is also confirmed to be in the game, revealed around NCW3. Her character is a nomad and you apparently see her during the nomad prologue.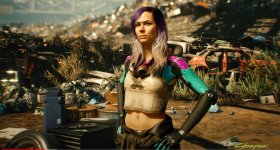 Streamer CohhCarnage meets his character in this link (Garry the prophet)
Hideo Kojima has a real cameo in the game too. You can find him in the lounge of Konpeki Plaza during the Heist mission.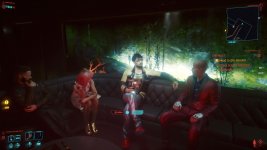 - A Witcher 3 Nilfgaard easter egg: apparently an adult movie/VR experience titled "Milfguard". Thanks to u/Billonel from reddit for this one.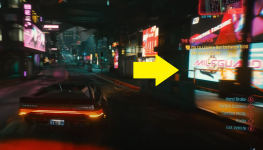 - Columbarium in North Oak has numerous easter eggy epitaphs, Including Roy Batty from Blade Runner and concept artist Syd Mead. (the man behind Blade Runners flying car design among other things)
- One of the divergent Delamain cabs wants you to call her Clarice, and rambles about screaming flamingos. Obvious Silence of the lambs reference.
- Another divergent Delamain appears to be a
Portal
reference. Judging from the line: "The test results are in: You are a terrible person".
- One of the dildos being sold at sex shops is titled "captain Pickhard". A Star trek reference.
- An iconic tech rifle is called "Widow Maker", has a chance to inflict poison, and has a purple color scheme. Debatable Overwatch reference. Panam's personal iconic sniper rifle is also called "Overwatch".
Speculation:
- There is some speculation whether the police officer who arrests V during the street kid prologue (Detective Stints) is Witcher character Gaunter O'Dimm. Afaik this was asked from a dev (Pawel?) in an interview and the dev neither confirmed nor denied, saying "You have to wait and see". I dont know which interview this was in.
Last edited: