Geralt's companions
I wanted to create this thread for a loooooong time, but totally forgot about it at some point. And now I finally remembered
Since the forum is not as active as before, I don't expect a lot of pages, but who knows? Maybe this thread will breathe some life into the forum? And if it won't then...well, at least these guys will have their own thread :animier:
Dandelion
Dandelion (Polish: Jaskier, supposed real name: Julian Alfred Pankratz viscount de Lettenhove) — a poet, minstrel, bard and the closest friend of witcher Geralt. He studied seven liberal arts for four years at the Academy of Oxenfurt (during his studies, he achieved the reputation of a sloth, drunkard and idiot), later becoming a professor (after passing the exams with exceptional results) he taught students for a year, and then left the academy to travel the world. He still visits Oxenfurt from time to time to give guest lectures.
He was a cousin of Ferrant de Lettenhove, royal instigator of Kerack.
In very few years he gained worldwide fame and became known as one of the best minstrels in the Northern Kindoms, and his best known song is the Ballad of the Lion Cub of Cintra. He also gained the reputation of the biggest womanizer in the world — he even managed to conquer the heart of Anna Henrietta, the ruler of Toussaint in which Dandelion used to be a nobleman, a viscount. He is very handsome and sometimes is mistaken for an elf or half-elf.
During his travels with Geralt, Dandelion started to write his memoirs, entitled "Half a Century of Poetry"; twice, in fact. His first attempt was lost in the bottom of the duchess of Toussaint's closet after the poet was banished from her duchy. But rather than bemoaning that loss, the poet decided to rewrite his memoirs from scratch. His poems were later bound in two collections: "The Adversities of Loving" and "Time of the Moon".
Milva
Maria Barring, better known as simply "Milva" or "Kania" (meaning "kite") in Elder Speech, and"Sor'ca" ("sister") by the elves was a female archer from Upper Sodden, one of the few non-dryads tolerated in Brokilon.
Eithné
was said to be rather fond of her. She led four fictional crusades against the dryads in the hope of reducing the number of volunteers for their expeditions. But when her true part in this was discovered, she vanished.
During second Nilfgaardian war she guided the shattered remains of the Scoia'tael commandos through the forest. She was one of Geralt's companions. Later, her friends discovered that she was pregnant by an unnamed elf who was presumed dead. Unfortunately when they tried to reach the far bank of the Yaruga on their way to Caed Dhu, the Nilfgaardian armies attacked them as did the Rivian army. Milva was seriously injured causing her to miscarry. She was shattered after that and didn't speak at all due to her depression. Then, one day during the journey she cut off her hair and returned to her old self.
In Beauclair she met a baron with whom she went hunting quite frequently. On one occasion, the baron proposed to her but she refused and again was shattered.
She died at castle Stygga when she and an experienced enemy archer simultaneously shot each other. Her last words were "I love you too, Dad.", referring to a final-breath flash-back of her father teaching her archery.

Cahir
Cahir Mawr Dyffryn aep Ceallach, or simply Cahir, was an intelligence officer of the Nilfgaardian Empire who hailed from Vicovaro. He was the son of Ceallach and Mawr, the brother of Dheran, Aillil and grandnephew to Assire var Anahid. Cahir first appeared in Blood of Elves
, though he is not named in the novel. It becomes clear in later novels that he is the black knight with the bird of prey wings on his helmet who invades Ciri's dreams.
When we first meet Cahir, he had recently been released after serving two years in prison from which he had only expected to escape via the gallows. Emperor
Emhyr
had given him one more chance, adding that if he did not succeed, the executioner's axe still awaited him. Tasking Cahir with finding Ciri, he also stated that the chance of a pardon was extremely small and that of forgiveness, non-existent. The sentence was related to a mysterious incident that occurred two years earlier, but no further details are provided.Later, he joined Geralt's party but not easily. Geralt nearly killed him on at least three occasions before finally grudgingly accepting him into his party. The first time was during the coup on Thanedd Island, then again later while Cahir was being transported as a prisoner in a coffin by hawkers.
Cahir loved Ciri. He confessed this to Geralt shortly before he died at the hands of Leo Bonhart
in the assault on Stygga
. He told Bonhart that he was the witcher but the seasoned killer was not frightened by this bluff and defeated the "Black Knight" in a few moves. Though he appeared to be an enemy from the outset, his sacrifice gave Ciri and
Angoulême
time to escape
Regis
Emiel Regis Rohellec Terzieff-Godefroy, or simply Regis, was a very powerful higher vampire, and more than four hundred years old when he first met Geralt. He was the barber-surgeon of Dillinqen but surprisingly intellectual for one in such a profession. There was always the fragrant scent of roots and herbs emanating from him. His appearance was that of an ordinary middle-aged man, with an impressively crooked nose, greying hair and black, shining eyes. His smiles always concealed his sharp teeth, except for a couple of times
.
He also chose to ride a mule, which he named
Draakul
, instead of a horse.Geralt and his travelling companions first met the vampire in the necropolis of Fen Carn, although they did not initially realize his true nature. After inviting the group to spend the night at his nearby cabin, he decided to join Geralt and his companions on their journey. Even Geralt's medallion did not give the vampire away, and it was only some time later that they realized that Regis was indeed a vampire. Although the companions had their initial doubts about him, Regis became a good and trusted friend.
He was particularly fond of tearing down the myths and legends about killing vampires with garlic or wooden stakes. During one feast at Anna Henrietta's castle he related a story in which the exact opposite transpired. During their journey Regis reveals to the rest of his companions that when he was younger he had been very cruel and stupid. For some time he had stopped "drinking" and become involved with a vampiress, but she left him, however, when the "addiction" took hold again, even more strongly.
The vampire began "flying drunk" which was considered to be completely unacceptable in his community. On one occasion while "drunk" on too much blood, he was captured by peasants who cut off his head, pierced his heart with wooden stakes, doused him in holy water and buried him. The regeneration took Regis about fifty years, leaving him with quite some time to reflect on his lifestyle, but he did regenerate completely. After that he changed his way of life and stopped drinking blood completely.
Emiel Regis had a romantic relationship with a succubus while the witcher and his companions were in Beauclair.
He died, ripped apart and melted into glass by Vilgefortz
, during the assault on Stygga castle
.
Angoulême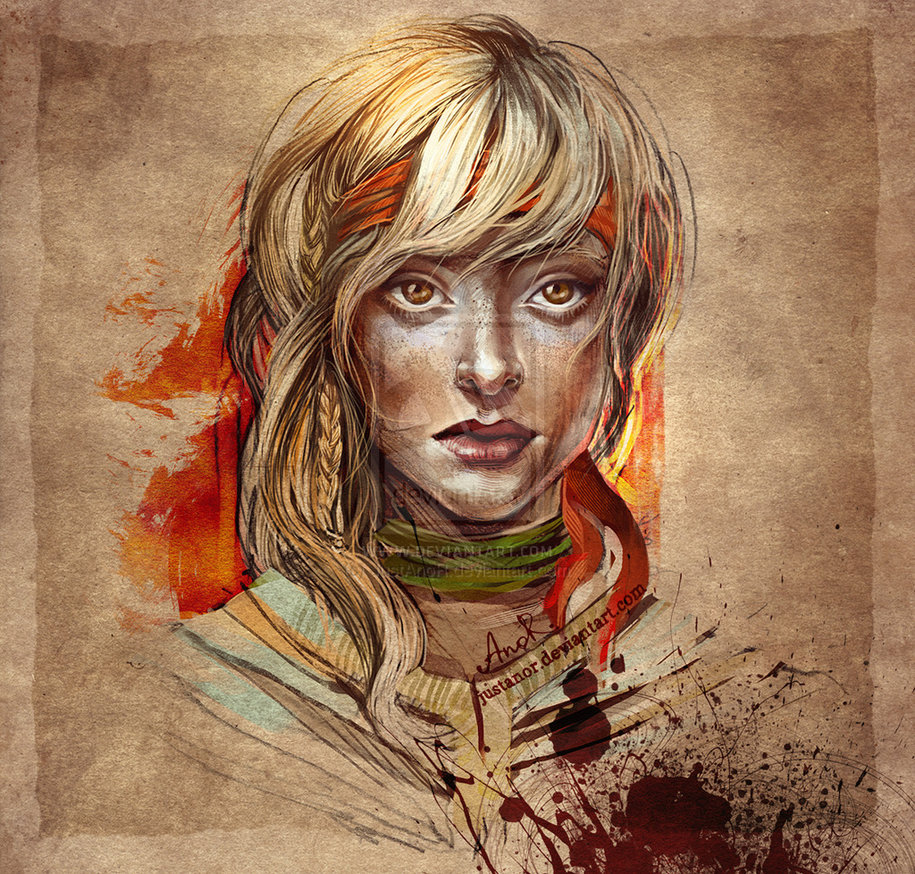 Angoulême
was a fair-haired girl who resembled
Ciri
in many ways. She was from a rich
Cintran
family. She had the misfortune of being a bastard child and so was sent to live with relatives far from her own home. She ultimately renounced her family altogether and set out to make a life for herself. Eventually, she became a member of the nightingale gang
. Although she had left the gang, stealing from Homer Straqqen on her way out, she was captured by agents of Fulko Artevelde, a Nilfgaardian governor and condemned to death. As a partial reprieve, she was offered a quick death if she agreed to become a crown witness in the investigation into the Nightingale gang. She cooperated with Fulko and through him, met Geralt who had also been pulled in for questioning.
Fulko needed the witcher and his companions to hunt down and eradicate the Nightingales. Reluctantly, the witcher agreed but demanded that Angoulême be released into his custody as a condition for his cooperation. Angoulême then joined the witcher's company in their search for Ciri.
She was quite fond of using rather salty language and persisted in derisively calling most of the men she encountered "uncle". She also had a habit of calling Milva "auntie", which infuriated the archer.
She was seen using a dagger and a saber with a degree of competence, and was also seen using a throwing axe.
While Geralt and this companions wintered in Toussaint, Angoulême decided that once the group had found Ciri, she would open her own bordello, a high-class establishment.
She died from blood loss due to a spear wound in her thigh which she sustained defending Ciri during the assault on Stygga castle
.

Their gwent cards:

​

Unfortunately, just like with the Lodge, one of the members is missing. And that's
Angoulême
She was also left out from the Spanish covers of the books.
Last edited: