Thronebreaker: The Witcher Tales hasn't done as well as CD Projekt hoped. GOG exclusivity didn't really work.
I half expected this to be the case when I saw Thronebreaker on steam all of a sudden. I'm genuinely happy you brought it to steam to gain a bigger audience. Only... it's how you brought it over to steam that's left a sour aftertaste for me and many gamers from my country, India, and similar countries with laughably weak currencies.
Look, I know steam takes 30% out of all sales and there's a valid concern among indie devs that it's too much for the service they actually provide. I agree with it but so far only steam has shown that they're capable of reasonable regional pricing. With the exception of Activision, Bethesda, Ubisoft, and 2K games. They are always charging us $65 (sometimes even more) on steam even though US gamers (where the game is made) only pay $60.
Us Indians don't earn as much as most westerners and Australians do. Our minimum wage is $0.31 per hour, which translates to 22.31 Indian rupees. Our cost of living is low for our country. So when you sell us products with international prices, you're essentially exploiting us legally. Let's compare Indian minimum wages with other popular countries (in USD to INR) for reference's sake:
AUS: $14.56 per hour (INR 1047.69)
FRA: $11.14 per hour (INR 801.6)
NZL: $11.7 per hour (INR 840.12)
UK: $10.04 per hour (INR 722.45)
GER: $9.97 per hour (INR 717.41)
USA: $7.25 per hour (INR 521.69)
JPN: $6.78 per hour (INR 487.87)
POL: $3.21 per hour (INR 230.98) < CDPR's home.
RUS: $1.1 per hour (INR 79.15)
PHL: $1.16 per hour (INR 83.29)
CHN: $0.85 per hour (INR 61.16)
MEX: $0.59 per hour (INR 42.45)
IND: $0.31 per hour (INR 22.31) < This is us, at the bottom of the barrel. USD 1 = 71.96 INR as of 11/15/2018. There are even worse off currencies out there.
Source: https://en.wikipedia.org/wiki/List_of_minimum_wages_by_country
It will take Indians around 100 hours to earn $30, while USA and other countries with higher minimum wage can earn that in 4-6 hours. So a 3+ day job for us and a morning/afternoon for them. How is that a fair comparison to you, CDPR? Your price hike from INR 699 ($10) to INR 2,149 ($30) is unjustified. Some countries are still buying it for $10 and $20 even though you said on twitter and steam that it wasn't your intention to make the game cheaper to anyone.
Source: https://www.pcinvasion.com/thronebreaker-witcher-steam-regional-pricing/
Source:

Source: https://steamcommunity.com/app/973760/discussions/0/1752358461535519667/
So why is it still cheap for these countries listed below? Why are they exempt from the price hike if you intend to sell the game at $30 to everyone? I looked into every single one and most of them suffer from poor economy with depreciating currencies. So why the special treatment for only these countries listed below?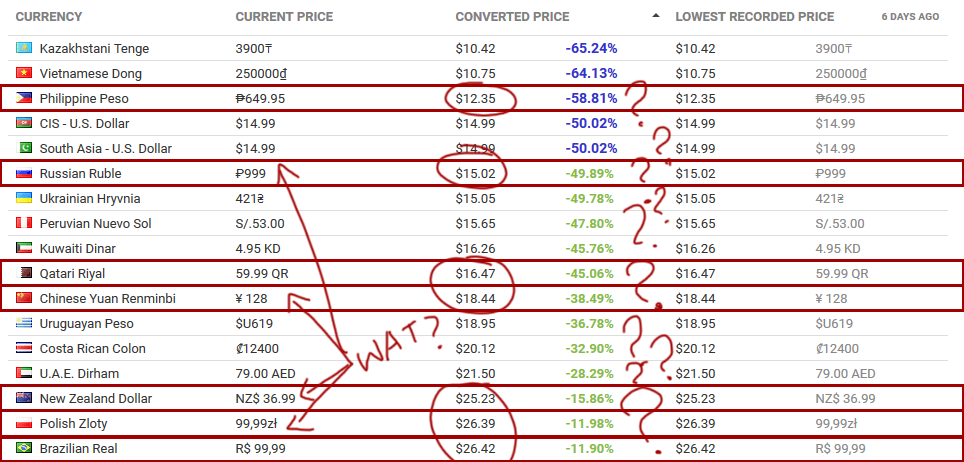 Source: https://steamdb.info/app/973760/
Thronebreaker costs INR 2,159 as of this post, which is around $29.95 (USD 1 = 71.79 INR). It used to cost INR 699 ($10) due to an "error." I know steam chose that price for you, it's part of the service they provide for developers and publishers, and you decided to change it manually.
Source: https://www.polygon.com/2018/10/19/17959138/steam-valve-developer-support-pricing-reviews
So can you please explain to me why, New Zealand,
a country with $11.7 per hour minimum wage is getting a 15.86% discount?
Why is Poland getting a 12% discount, with $3.21 per hour minimum wage?
It's low but it's not as low as India. How about China? Why does china get a whopping 38.49% discount? Their minimum wage is bad, terrible even, but they're still above India. Why are these countries the exceptions? You said it wasn't your intention and yet specific countries on that list are getting ridiculous discounts. Is this really how you want to treat potential customers when your game is underselling, CDPR? How am I supposed to endorse you when pull something like this?
I bought Witcher 3 from steam on 16th October, 2014 for $47.99 (INR 2947), after a 20% discount for owning previous witcher titles, from the steam store. At the time, Indian Rupee was still doing moderately good against the US dollar. It was 61.42 INR against 1 USD.

The price changed after steam introduced regional pricing to Indian Customers on 4th November, 2015. The Witcher 3 became affordable to many Indians at that point. TW3 was priced around INR 1179 during November of 2015. Here's the graph from steamDB for reference. It was around $17.88 (USD 1 = 65.92 INR on 7th November, 2015) 6 months after launch due to regional pricing. Even I thought that was incredibly cheap for such a great game.
Source for October, 2014 exchange rates: https://www.exchangerates.org.uk/USD-INR-17_10_2014-exchange-rate-history.html
Source for November, 2015 exchange rates: https://www.exchangerates.org.uk/USD-INR-07_11_2015-exchange-rate-history.html
Source: https://steamdb.info/app/292030/
However, the GOG physical copies sold in retail stores in India during May, 2015 were priced at INR 1,699, around $25 (USD). Extremely affordable in my country, so I bought 2 physical copies in 2015 and gave one of them away to a friend who blasphemously didn't purchase it. My 2nd copy I activated on my GOG account. I still have the physical copy with me. Beautiful Packaging! I wish you guys had sold steam physical copies for TW3, too.
So why is all this important? Because I didn't have to buy 3 copies of Withcher 3. I didn't have to spend $47.99 on steam and then $50 more to buy 2 more copies. I did it because I wanted to genuinely support you, CDPR, for not treating us Indian gamers like absolute garbage as most other publishers did and still do. I can't support your price change because it feels the same.
How is a card game costing more than a AAA RPG at release in my region? TW3 retail GOG copy was $25 in May, 2015 and Thronebreaker is $30 at release. I will now further explain why Thronebreaker pricing is a problem (for my region) with several examples. Starting with HITMAN 2, which just got released. It has 3 editions available for purchase. I'll use the Gold Edition, costing INR 2,099 ($29.24), as an example here. So here's what Gold Editions comes with: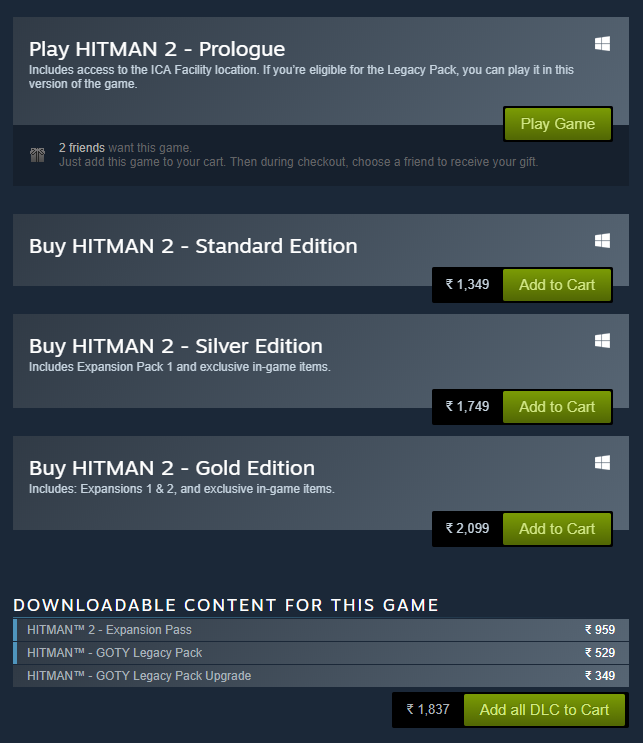 Owners of the HITMAN 2016 will be able to redeem the HITMAN Legacy pack for free, which is basically the entire remastered HITMAN 2016 available for free on HITMAN 2, playable with new HITMAN 2 gameplay features. So you're essentially getting 2 non-card games worth of AAA content for INR 2,099 or $29.24! I'm not saying card games are bad or inferior. I'm saying your competition has better pricing & incentives.
Source for Legacy Pack: https://www.ioi.dk/hitman-legacy-faq/
Source: https://store.steampowered.com/app/863550/
My second Example is METRO: Exodus. It comes in two editions. Standard Edition for INR 1,179 ($16.43) and Gold Edition for INR 1,749 ($24.37). I'll be using the Gold edition here, again, as an example. So here's what we get in gold edition: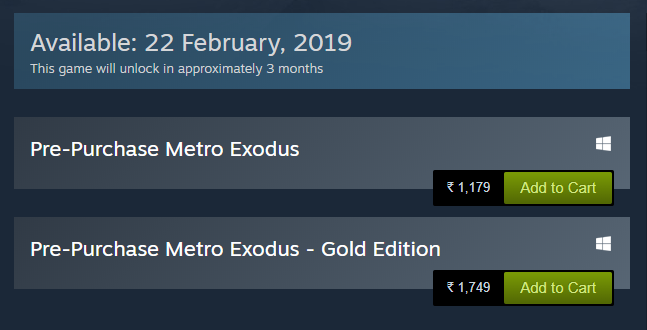 The Gold Edition includes the Metro Exodus Expansion Pass, granting access to all new adventures in the post-apocalyptic Russian wilderness.

Exact contents still to be determined, but expect hours of gripping single-player, story-driven action of the highest quality!
So basically another one time purchase for an AAA non-card game.
Source: https://store.steampowered.com/app/412020/Metro_Exodus/
My third and final example is the comparison between the GOG Galaxy version of Thronebreaker and steam version. Let's compare the content provided by you for both versions for $30. Starting with GOG version first: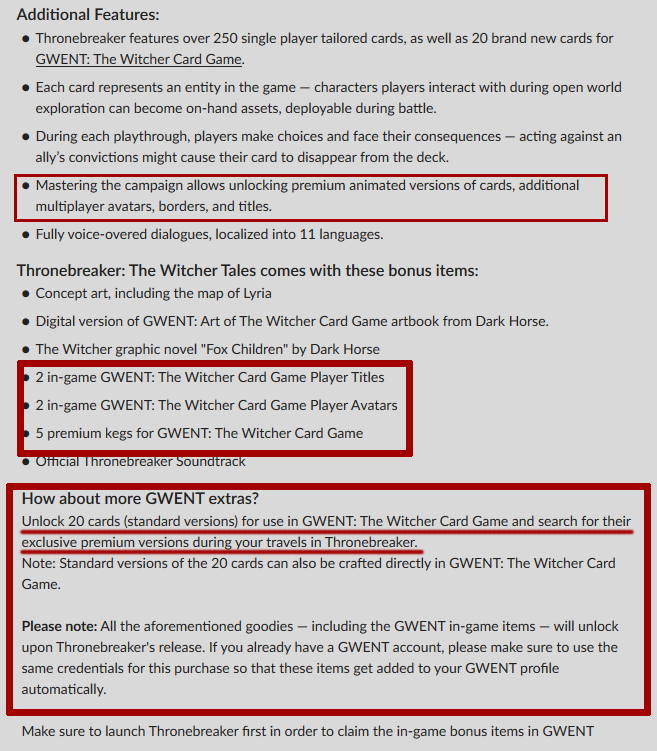 All of the above highlighted bonus content is missing from the steam version because steam users obviously have no access to GWENT standalone game on steam. I don't think Thronebreaker is redeemable on GOG Galaxy through the GOG Connect feature either. So you have essentially locked out an entire platform's user base from playing the connected game that Thronebreaker is a singleplayer campaign for because the accounts are not connected as they would be on GOG. That's just sad.
Now let's compare the steam version: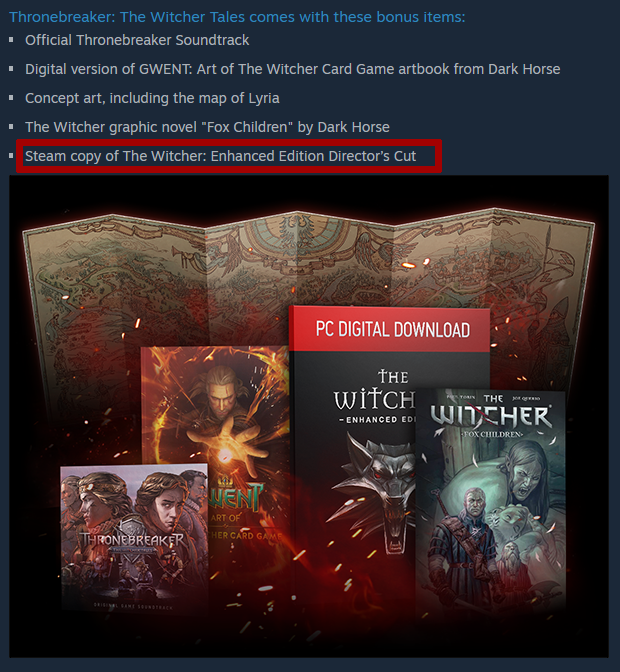 You're giving steam players a copy of witcher 1? You do realize that most people who buy Thronebreaker on steam are witcher fans who already own and have played W1, 2, and 3, right? Well, that's just sad. Steam players are entitled to the same bonuses as GOG players. You've divided the two player bases by separating both versions. I wouldn't call it an incentive, imo.
Last edited: