After being bummed out that there's nothing but sunny days in a cyberpunk game, yet a dynamic weather system was advertised, I checked online and saw a ton of threads on reddit, this forum and similar comments under youtube videos with rain. Yet I saw some people having confirmed it has rained for them, albeit super rarely, and some had the "yellow weather" (don't know what that's called).
What surprised me was a topic here where somebody asked for
reduction of the rain -
which sounds as if it's bugged and it's raining too much. Here is the thread -
https://forums.cdprojektred.com/index.php?threads/reduce-rain-frequency.11045957
.
I should mention that I often see soaked streets in my game, but NEVER actual rain. Water on the street... just appears. Quite weird.
Also there was a mission (with Judy - act 2) that ends with rain, I went outside, saved, reloaded, rain was gone, clear weather instead no matter how much I reloaded. Even re-saved, went outside, rinse and repeat - rain is always gone. Asked friends (all on PC) and they confirmed the same, one of them had random rain during gameplay, he reloaded the save and confirmed the rain disappears even if it has naturally occurred (i.e. outside of a scripted situation).
So I decided to see if I can force anything but sunny days with time skipping. At first tried with 6-hour skips, but to make more drastic changes I started skipping by a factor of 18 to 20 hours.
Reading the settings carefully I thought it might have to do with DLSS - after it's a system for better framerate, and weather in video games is usually taxing, sunny clear days are the easiest for the hardware to crunch. If my specs matter I am on a i7-9700K, 16 GB RAM, SSD, nVidia 2070S, playing on the Medium Ray-Tracing preset with only the FOV changed to 95.
So at first I turned off DLSS. I stood in one place and after skipping the equivalent of ~14 ingame days I finally got he "yellow weather" and it was raining:
(Rain drops visible agains the darker parts of the image, look around the bridge on the left.)
One thing I noticed is this weather was over within a minute. I had saved immediately upon seeing this, after some free roaming I reloaded it -- yep, rain gone again and it loads with clear weather.
Stood in the same spot and turned on DLSS to see if that allowed for the weather change. After another ~16 in-game days I did manage to trigger the rain... and it AGAIN cleared within 1 minute and upon reloading was gone.
And just to throw in some other people's experiences:
Source:
https://www.reddit.com/r/cyberpunkgame/comments/kbfk1a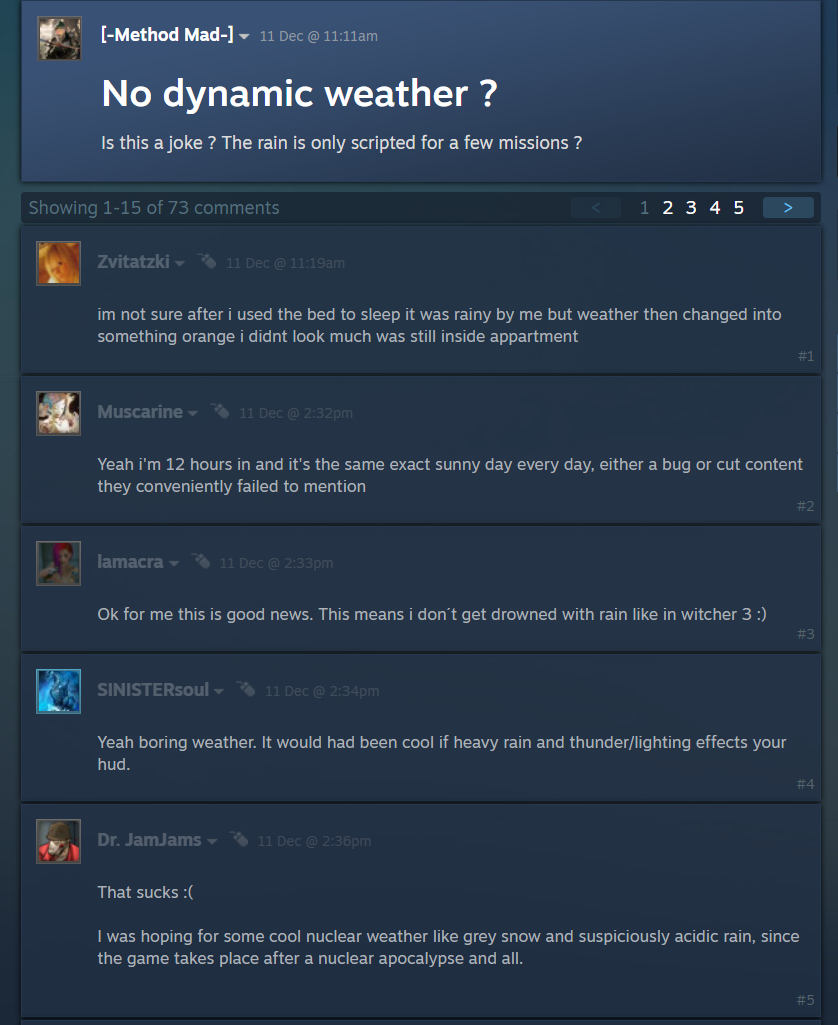 Source:
https://steamcommunity.com/app/1091500/discussions/0/2988665684330344938/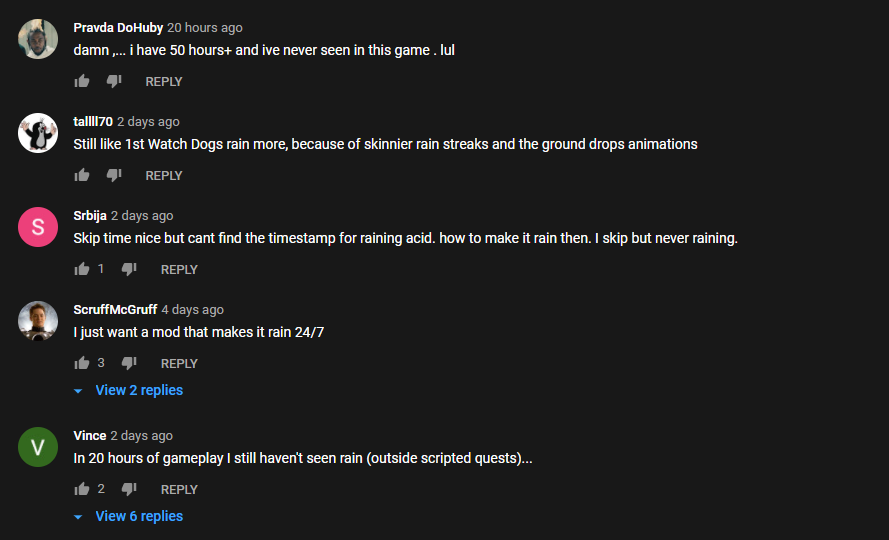 Source:
Personal opinion:
As much as I love the game, this is the only thing that breaks my immersion. Not even the spawning 2 m behind your back cops break it that much. The few times I have seen different weather it has been SO BEAUTIFUL and I'd love to explore the city in different weather conditions, but even when it's artificially enforced as in my experiments, it is gone far too quickly. And I have seen people say "oh it's just a screen filter" -- I honestly do not care if it's just that as for now. I see that drops don't make splashes on the ground and I can live without it if that's not in your future patch/fix plans.
But having the same day every single day?
Yeah that breaks the fantastic atmosphere for me.
Hope the CDPR staff gets a good holiday and the respective payments and bonuses because this is clearly a super ambitions title that on good hardware absolutely delivers, but I hope the weather gets fixed as soon as CDPR are ready to put in some more work.
* Edit: if you're having rain, could you please share what platform you're on and if it's PC - what settings? I'm trying to determine if a certain setting is causing this odd weather rate.
Last edited: