Hey all! Its the end of the year and as usual, the forums are filled with doom and gloom, so I figured it might be nice to try something fun!

After the leader power decoupling we have ended up with a big old pile of art for the old leaders who are now represented only by their 3D avatars since the abilities are now all represented by icons. Given CDPR doesn't seem to have any clear plans for these older art pieces and given their not properly sized to be reworked into loading screens like the trio sets were, I figure its our civic duty as fans to go hog wild and come up with cards that could be made out of them! Since Gascon and the new MO leader are represented in the game by cards already, theirs clearly no rule against letting the leaders make a glorious return in card form as new golds, right? And if not, to hell with it, like that's going to stop us from speculating!

Now before I open the flood gates... Or let this thread go out to die a lonely, lonely death, I want to set a couple of simple ground rules.
1. No arguing about leader decoupling. This is meant to be a fun thread to celebrate this communities creativity and the game we all love, so try to keep things positive, please?

2. Ideally the cards should be gold. These are all big name figures in the Witcher setting... And also a very large bug, so lets show them some respect.

3. Any sort of card type is valid! I would assume they would all be units, but hey, if you think 'Henselt's Folly' would make for a cool special card, more power to you!
And that's it, aside from that just have some fun with ideas, throw out abilities that you would like to see in the game or even just ones you think might be cool! Tis the season to be jolly so just try and enjoy yourselves!


-

Okay just to get the ball rolling here are a couple ideas I'm just gonna shoot off...
Meve the Unbreakable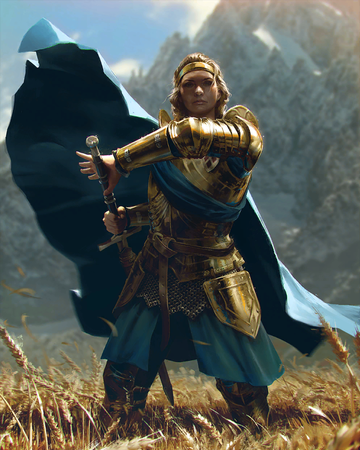 5 strength - 6 provisions - Armor 2
'Whenever you play a unit next to Meve the Unbreakable boost it by 1'

Explanation: Given Meve's old leader ability and the fact that she was sort of meant to play well with the whole 'inspired' mechanic I figured giving her the ability to help boost up your troops would make a good fit for her and by having it be a passive thing that happens whenever you play someone next to her, it gives her a nice bit of flavor. Basically Meve as a hands on, lead from the front sort of queen inspires her men by showing them that she is right their with them, ready to fight!
-
King of the Wild Hunt
5 strength - 10 provisions
'Deathwish: Boost all Wild Hunt allies in hand, deck and on the battlefield by 1'

Explanation: Okay its just Vesemir: Mentor, but for Wild Hunt rather then Witchers and with Deathwish rather then deploy. Too be fair though I think this can work for a couple of reasons... Firstly Wild Hunt as an archetype really doesn't exist right now, held together by dominance as a shared mechanic, but even then that's not really exclusively their thing. Giving them some reason to go together in a deck, one as simple as just getting a larger boost from their leader would be something to give the 'tribe' a little love. Plus with Deaths Shadow and Ge'els you could trigger Eredin a couple of times, leading to some pretty beefy boys, which leads into the second reason I think this would work for the Wild Hunt which is that beefing up all their buddies could actually... Ya know, allow them to get dominance without having to require on some big worm or giant ghoul to back them up so they don't get stage fright.

-
Vial Usurper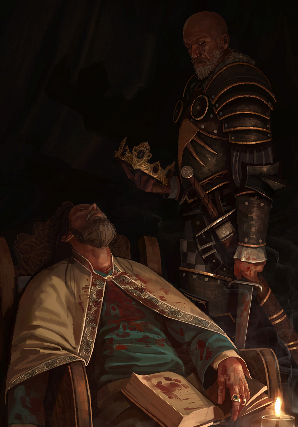 3 strength - 8 provisions
'Spying. Deploy: Melee Trigger your leader ability.
Spying. Deploy: Ranged Copy your opponents starting leader ability.'

Explanation: Going old school here with a twist on BOTH old Usurper AND old Cahir! So to explain, the melee ability is basically just beta Cahir's ability, essentially playing your leader ability as if it were his deploy ability. So if your playing with Strategic Withdraw, you would get to pull a card back to your hand, boost it by 2 and then play a card. If your playing Enslave, you get to grab size a unit based on your number of starting tactic cards. If your Imperial Formation you just get one big boost to a unit by 8 and move a soldier to the top of your deck. If your Usurper... Don't play this card on the Melee row...
Now where its gets fun is the ranged row ability because THAT is more like old school Usurper, but less random! Basically you want to use up your leader ability before you play Usurper, then you play him to get a fresh and ready to use copy of your opponents leader ability! Now obviously this would be SUPER match up dependent since allot of leader abilities would not be worth copying or that just would not work for NG at all, hence having the back up Cahir power, but in a few cases you could use Usurper to do some real shenanigans, which feels very appropriate to his old flavor.
And along with all of that, he would be a new spy and NG can always use more spies! Win win!

-
Elder Brouver Hoog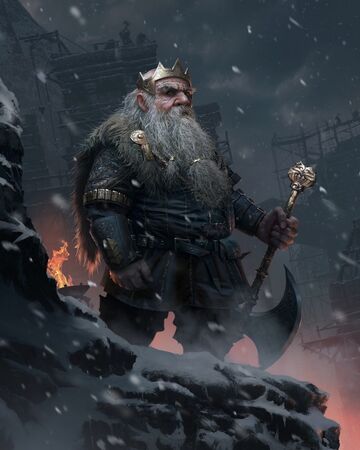 Strength 7 - Provisions 11
'Deploy: if all units in your starting deck are Dwarfs, spawn and play 'For Mahakam!''
For Mahakam!
-
Create one of the following effects -
1. Boost all allied Dwarfs by 1
2. Spawn 2 Rowdy Dwarfs on a row
3. Give all allied Dwarfs 2 armor
4. Boost an allied Dwarf by 4
5. Create a bronze Dwarf

Explanation: As a fan of dwarfs I was more then a little disappointed when Brouver lost his dwarven specific leader ability in Homecoming and seeing as how Echo's has become the default for basically all ST decks, I figured... Why not just go fully hog wild on Brouver and make him a TRUE dwarf leader again? So then... Why make him dwarf Shupe? Well to put it bluntly, lore. Brouber's whole thing is that he is NOT a fan of the Scoia'tael AT ALL! In fact he made laws baring young dwarves from joining them, so him being part of the ST faction was always a bit weird. This version of him is sort of meant to push a proper, lore friendly-ish version of ST dwarves where Brouver isn't actually fighting for the Squirrels, but is rather gathering his kin in Mahakam to defend their homeland from outsiders. Initially I considered giving him a simpler pay off for running only dwarfs like a boost to everyone, but I already did that for Eredin and I figured if your gonna make a Shupe style deck anyway, might as well go all in and give it a random selection of powerful, dwarf based abilities as the reward!

-

Anyway that's 4 ideas I just sort of came up with off the top of my head, but theirs a TON of other leaders out their and I am sure other people have cool ideas for these four which I highly encourage them to share! As I said, this is just a fun, casual, open thread for people to put their creative juices to the test!

And to the whole community, devs, mods and fans... Thank you all for a wonderful year and I hope you all enjoy a happy holiday season!
Last edited: