As we saw yesterday in patch notes 10.3 CDPR dosen't really know how to buff/change Wild Hunt. That's the part where i take action as Wild Hunt player. You would say i'm just a random guy. Perhaps you right, but i'm not only guy who's played open beta, not only closed beta, but i am dude who even played two events called "broke the servers". And some of you would be suprised about my knowledge about the the game (and skill too), actually it's very similar to the guys you can see at pro scene. The difference is I am playing Monsters only and mostly for fun, mostly casuals, but this is no problem for me to know how to play almost every other archetype from other factions at decent level, because knowing enemy deck and plays is key to the victory. But to the topic, I will point every single Wild Hunt card below and i will discuss what is good and what is bad, and what change those cards would need to be up to date. So let's start:

Red Riders:
Let's talk about the worst change in patch 10.3, Red Riders. I already pointed out how bad this change is in comment secion of patch 10.3 so you can check what i said there. But let's make some quick review of this change. Before you had a choice to play frost for 4 turns in a single row, so you could play this card early when you had at least one unit in the one oponnent row, and because of that you could be calm for next 3 turns, because you could boost your next played Wild Hunt units because of that (White Frost ability) and i'm not even mentioning playing Acient Foglet for 7 points next turn after Red Riders alone. But now when you don't want to play frost on two rows, because for example there is no enemy units on both rows to get value, now because of that to use alternative ability you need to have bronze Wild Hunt unit on the board wich is worth to use it too. And gues what, it's not worth it, there is no bronze Wild Hunt unit ability that would be worth it (and remember this unit must be already on the board). Let's do some maths here, deploy ability of bronze Wild Hunt unit is worth 2-4 points at best. Now to compare let point how much additional 2 turns of frost can give you:​
Potentially of 1-4 damage points.​

Potentially of 1-2 damage from Eredin's ability.​

Potentially of 1-2 boost for played Wild Hunt units.​

Potentially of 1-2 boost for Naglfar's Crew (x2).​

Potentially of 1-2 boost for Anciet Foglet (x2).​
I think most of time those 2 turns of frost will be worth around 4-10 points. So we trade 4-10 additional points for 2-4 point ability, really? Who the hell looked at this change and was thinking this is a good change that wil buff Wild Hunt!?
Solution? just reverse the change CDPR, previous version of
Red Riders
is pretty good.
Wild Hunt Warrior
and
Wild Hunt Navigator
:
The change from patch 10.3 is a good way. But to be honest, we need to remove "Dominance" keyword from every single Wild Hunt card and replace it with frost condition. So this is my proposal: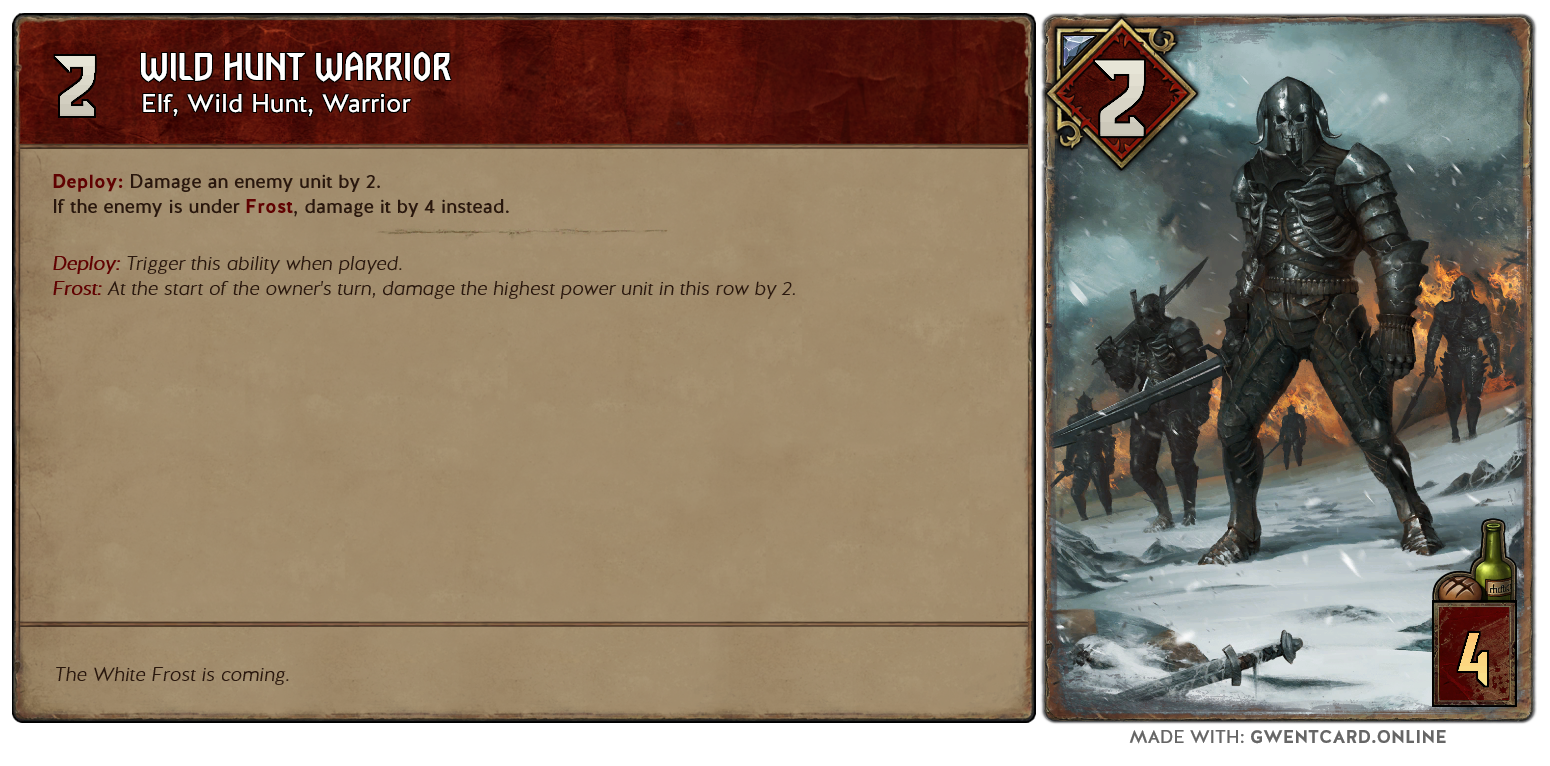 Naglfar's Taskmaster and Wild Hunt Rider:
Just replace "Dominance" keyword with frost condition:​
Wild Hunt Hound:
This card need a rework, my idea is to make it similar to Melusine Cultist with additional bonded keyword:​

Aen Elle Conqueror, Wild Hunt Bruiser and Naglfar's Crew:
Decent cards, no change needed.


Winter Queen:
Yes, i know this is first day of the patch, but change in patch 10.3 is kinda awkward, i think most of times this is actually a nerf instead of a buff. A lot of people wanted Winter Queen to be The Flying Redanian for frost archetype. And actually this is a very good idea, because you can play Ard Gaeth two times, why not Winter Queen too? This is my proposal:​
Ard Gaeth:
I have seen a lot of negative feedback about this card. But to be honest, i think this is pretty good card. I don't understand why a lot of pepole think this card is useless and prefer only to use Red Riders (before nerf). This card is worth 1.5 of Red Riders, and you can play this card in two rounds. But yes, this card also could have the option to choose from. This is my proposal:​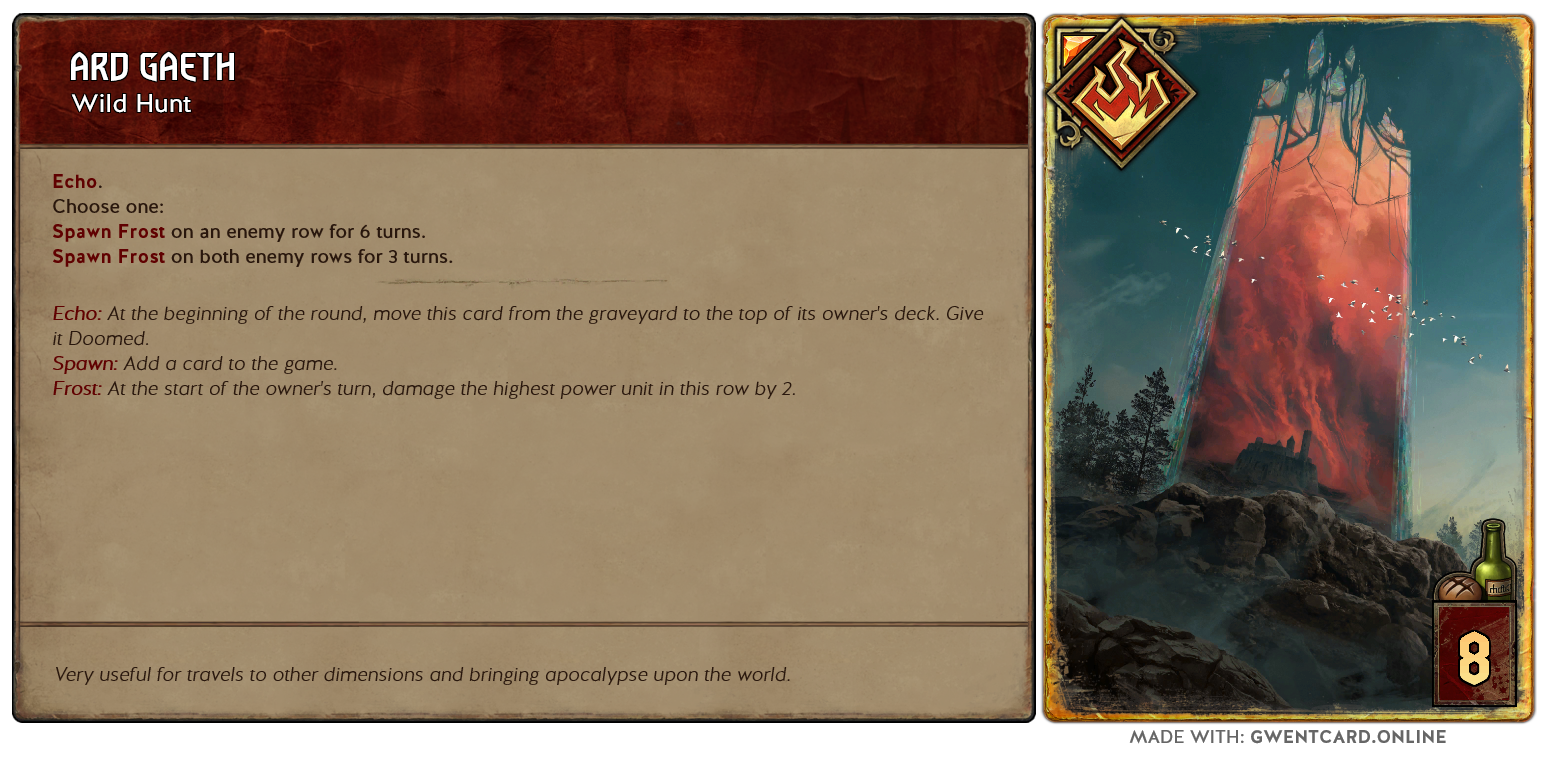 Auberon King, Ge'els and The Apiarian Phantom:
Very decent cards, no change needed.


Naglfar:
This is very important card for every Monster deck because of lack of tutors for devotion Monsters. I had a few ideas to change this card, to support Wild Hunt a little more, but i think it's not necessary right now when we can change other cards.


Nithral:
Just replace "Dominance" keyword with frost condition (and yes i changed to damage only enemy units):​
Eredin Bréacc Glas:
Very decent card after the buff, but i think the "Dominance" keyword still must be replaced. I'm not sure what change could be done here, but i think "Devotion" keyword is good enough for now. This is my proposal:​
Caranthir Ar-Feiniel:
This card has a very good and unique ability that dosen't need change, but i think this card could see a buff for Wild Hunt to copy the card with it base power. To copy Nithral and The Apiarian Phantom for example. This is my proposal:​
Imlerith's Wrath:
This is one of the most awkward control spell's to use in the game, it not only requires a unit on board, but a high power unit. Also the Imlerith condition it kinda a joke because of the fact that current Imlerith have nothing do to with Wild Hunt archetype expect "Wild Hunt" keyword. My idea is not only to make Imlerith's Wrath a decent removal on it's own, but also too keep the bonus conditon for decent removal for Wild Hunt. This is my proposal:​
Imlerith (Imlerith: Sabbath):
The true evolving card in itself ladies and gentlemen! Of course this card need a change, and please CDPR, no one wants this shitty currenct ability in Monster faction. But to be honest, i think at this point, Imlerith should be renamed to Imlerith: Sabbath and just support Relicts and Sabbath keyword itself. I was thinking what his new ability would looks like, and i think he would fit as new tutor for relict archetype. This is my proposal:​
Imlerith:
Because of the proposal above to change previous Imlerith, i think we need a new Imlerith card. A lot of people want Imlerith to deal damage, but i have a counter perspective. A lot of you see Imlerith as a great warrior, but remeber this big dude is always figting on front, focusing enemies on himself, and protecting the Wild Hunt boys squad with big ass shield. This is my proposal:​
Feel free to discuss my ideas in comments. May the
White Frost
be with you!
Last edited: