i've made a little research on first person camera position and found that we're always seeing the world around from V's... mouth! Yep, first person camera is placed into V's mouth. That's why we're always feeling shorter that everyone else. And that's why we can't see the road behind the cars hood.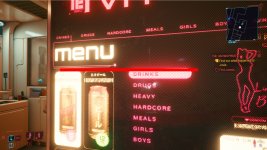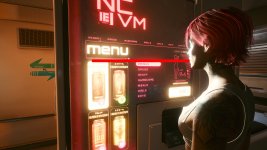 Another thing. When i look down at myself in game i can't see anything above my stomach.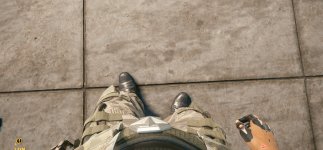 When i look at myself IRL, i can see almost whole of my chest (and i'm not really flexible man) and most of my shoulders if i'm turning my head sideways, like i showed on screenshot. So what kind of neck injury does V have that he(she) can't look downward?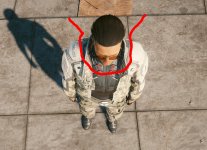 On next screenshot i'm showing approximate sightlines and camera/eyes position in-game (red) and IRL (green), when we bow our head to look down.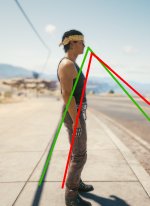 This problem may look insignificant, but it's not (especially for those, who would like to look at their fem-V's breasts... yep). Proper camera positioning will increase immersion (we won't feel like halfling near other people) and, probably solve first person driving problem. Though, for last one we also need rearview mirrors/monitors in cars.