Hey,
Some time ago I bought the W3-GOTY (digital version) from the MS Store on my Xbox One S.
I have already played about 100h, level 24, Velen cleared... and 0 achievements unlocked.
I don't know how it's possible... On 100% I have read over 30 books, most potions unlocked. IMO at least these 2 achievements should have passed. What's more interesting, on the Xbox app I have the following statistics about the game (in polish language):
For comparison, I played some F1-2018 and have 6 achievements unlocked.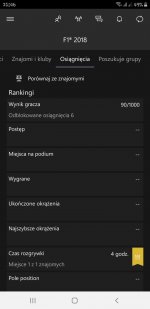 I was searching the internet but I didn't find a solution anywhere. I know that achievements are bugged, sometimes they do not count, but so that the game does not see progress except time?
From the things I found and tried to do (found as helping when the achievements do not unlock):
- reinstalling the game
- account deletion and login again
- hard console reset
- wipe whole console
Unfortunately, nothing helped.
Does this mean that I have bugged account / console / copy of the game? What else can I do to be able to full enjoy the game and its achievements?
I have tried play game on my wife accounts - stats and achievements didnt count.
Greetings
eerozeteen