GWENT Closed Beta Status Update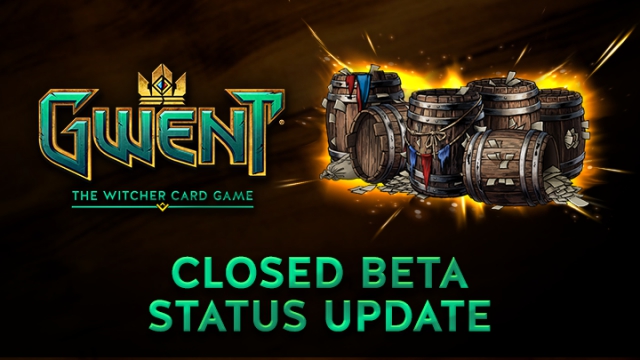 Making a good card game requires a huge amount of iterative work, and there's only so much we can see from within the studio. The amount of feedback, and your massive involvement in the game balancing process have helped us refine GWENT in truly remarkable and unexpected ways. Thank you for being such an awesome community. ​
This is just the beginning of our journey, but one thing's for sure: we're in great company!
​
We've been in Closed Beta for quite a while now, and we are preparing for the next stage — Public Beta. This is why we'd like to tell you a bit more about how we plan to transition into Public Beta, and what that means for your in-game progress. We'd also like to tell you more about what you're going to receive for your participation.
Many things have changed since we launched the Closed Beta of GWENT — we've introduced dozens of balance tweaks, added new mechanics, new premium versions of cards, implemented a ranking mode, and more.
Since Public Beta will mark a significant influx of new players, we want everyone to start on equal ground. That's why we need to reset everyone's card collection (fear not — we'll give you back all the Kegs you purchased with real money!) and game progress (player level, Ore and Scraps).
However, we also want to reward you for the time you invested in helping us make GWENT better. And this means you'll get to smash public some shiny new Kegs. Chances are, a lot!
Here's what you'll get:
Every Card Keg you purchased — we will return you the amount of Kegs you bought with real money.
Card Kegs for Player Levels — starting from level 5, you get 2 Kegs every 5 levels.
Card Kegs for your rank — 2 Kegs for each rank.
All end-season rewards.
All items granted as gifts from CD PROJEKT RED (like the gift premium Geralt card).
All in all, after everything's done, you should have enough Kegs to make new great decks! Once again thank you for playing GWENT and making it better. We really appreciate it.
UPDATE: By end of next week, everyone who signed up in 2016 will receive GWENT beta access. We'll be sending more invitations as we go.

​
Last edited by a moderator: