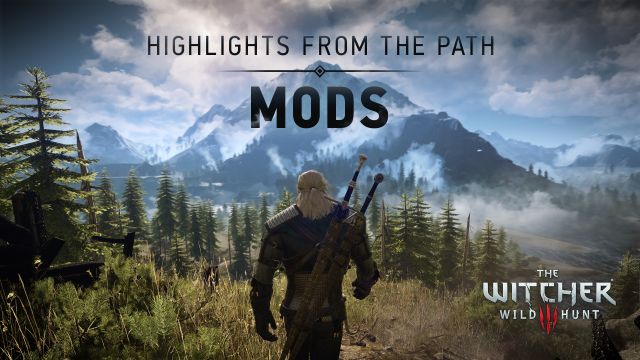 This May we celebrated two anniversaries: 10 years since The Witcher 2: Assassins of Kings was released and 6 years since The Witcher 3: Wild Hunt was released. We decided to use this occasion to celebrate YOU — our community and your amazing creations!
Last, but not least, let's see some cool mods made for The Witcher games!
1.
The Witcher Overhaul Project
High Definition textures for The Witcher.
2.
Rise of the White Wolf Enhanced Edition
This Witcher mod includes redesigned interface, retextures for various characters, new Witcher armor, new cutscenes with Dandelion and more.
3.
Masquerade
A detective noir story mod for The Witcher!
4.
Better Texture Environment
Modifies environment textures in The Witcher 2: Assasins of Kings.
5.
Lykaon
This unfinished story mod for The Witcher 2: Assassins of Kings features several hours of unique gameplay and dialogue. It was created by Philipp Weber, currently our Acting Lead Quest Designer, who was whisked away by CD PROJEKT RED before he could finish the mod. One of the quests planned for the mod that never saw the light of day ended up in Blood and Wine expansion of The Witcher 3: Wild Hunt. Which one, you ask? Here's a hint: Beauclair, an inspired artist, and Geralt in the nude!
6.
Farewell of the White Wolf
Farewell of The White Wolf is an imaginary epilogue of the The Witcher series. Made on The Witcher 2: Assassins of Kings engine, it tells the story of Geralt and Yennefer's wedding.
7.
High Quality Faces
Adjusts the quality of faces for characters in The Witcher 3: Wild Hunt.
8.
Beautiful Grass
Changes the grass types and textures for White Orchard, Velen, Skellige and Kaer Mohren in The Witcher 3: Wild Hunt.
9.
Phoenix Lighting Mod
Adjusts lighting in The Witcher 3: Wild Hunt.
10.
The Witcher 3 HD Reworked Project
This grand project alters the graphics of The Witcher 3: Wild Hunt by reworking models and textures to be more detailed, while preserving the original game style.
We only picked 10, but that's not all of them — if we were to include more this post could go on forever! We see and hear you so if you'd like to share your creations with us, be it mod, cosplay, fanart, video or anything else connected to The Witcher games, send it to us via email:
fanart@cdprojektred.com
and we might feature it on our social media channels.