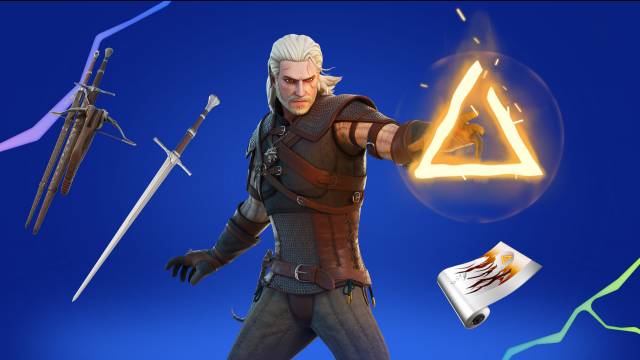 Always looking for a good fight, Geralt of Rivia is now available to unlock in the Fortnite Chapter 4 Season 1 Battle Pass! Page 1 of his Quests is available now, and Page 2 of his Quests becomes available on February 28th. Battle Pass owners may complete these Quests until
March 12th
to unlock Geralt, a Spray, Emotes and other Cosmetic rewards.
Art by Will Kirkby
In addition to completing Geralt's Battle Pass Quests for in-game items, you can also complete the Fortnite School of Llama challenges to unlock
even more
cosmetic rewards. (Note: Purchasing the Battle Pass is not required to participate in School of Llama challenges.)
The Fortnite School of Llama challenges contain four paths — Path 1 is available now while Paths 2, 3, and 4 will become available over the coming weeks. Each path contains tasks that unlock new ones when completed until you reach an obstacle. When you reach an obstacle, you'll be presented with a specific creator-made island. You can progress past the obstacle by completing the island's challenges! There are five total creator-made islands, each one's theme based on a particular witcher sign.
In order to participate in Fortnite School of Llama, log in to your Epic Games account on the
School of Llama website
. You have time until
March 10th, 11:59 PM ET
(March 11th, 5:59 AM CET) to complete these challenges.
Good luck!