Hello, community! I want to show u some simple analisys of the reasons of new Gwent "popularity".
Since Gwent Homecoming released most of people left it. Now some of them are coming back, but not so quickly as u may want. Newcomers are not the big numbers too.
What is a reason? I think, that the main perpetrator is a new graphical style. In a nutshell, it is dirty, dark, foggy and too contrast. Just dark and bad.
But if we look at the most popular games (including twitch views), we can see that the most of them are clean, light (even at the night time) and not very contrast (cause light styling makes picture not contrast): Fortnite, Apex, GTA, Dota2, LOL, Overwatch, Hearthstone are clean and light.
Fortnite looks bright even in the night; Apex has realistic, light and not cartoonish picture. The same picture we can see at the very popular Witcher 1 and 3 (and Piranha Gothic series); GTA has the same realistic styling: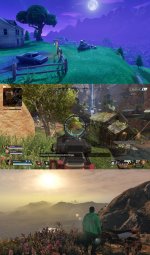 Dota 2, LOL, Overwatch are clean and bright too (even in the night):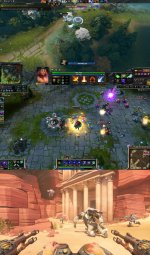 Now let's look at the Gwent opponents: Hearthstone and MTG: Arena. They both have clean and bright styling too.
The most popular HS (74 000 watchers at this moment) is bright and simple: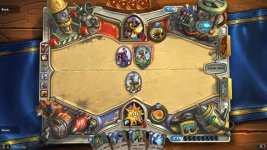 MTGA is quite young but at this momet it has 10 000 watchers against Gwent's 173 (not thousands alas). MTGA has more complicated and boring gameplay than HS and Gwent but still has more popularity than the more interesting and unique Gwent: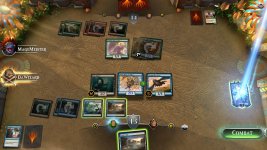 And now look, what do we have at the new Gwent: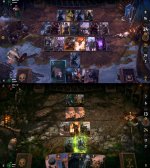 Why is it so f**** dark? Games are made to be source of fun and rest, especially card games, when we do have some funny random effect. But here we have a source of depression: I can hardly see what is placed on the gameboard.
If we look at the Gwent OBT, which was more popular, we could see more clear and playable graphical design with more clean lines: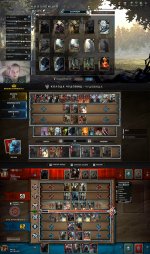 This design is quite dark too, but it's ok, it's the way brighter then the modern one and it's not so acidly contrast. It's looking really well. These neat card frames are much better then the modern damaged ones.
Another example of popularity and avoidance we can see at ur own products, CDPR. Witcher 1 and 3 are the most popular, while the Witcher 2 was less popular. And the pictures are the same as u could see earlier.
Witcher 1 have realistic light design (as popular Gothic, Apex, GTA and so on):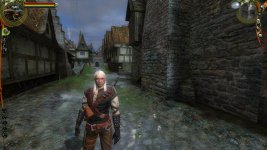 Witcher 3 – the same: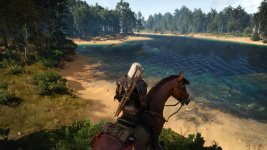 Witcher 2 is too dark and unpopular like Gwent HC: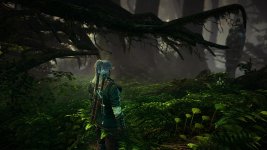 This dark and contrast acid design is not realistic and is hard to perceive. When u cannot understand what is on the screen – it is a stress, it's not fun and rest as we want to get from a card tavern game. Darkness by itself is depressing. Depression and all bad things are dark: curses, demons, death, terror and so on. "The night is dark and full of terrors".
Why don't we have something like this?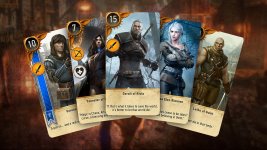 Clean and understandable design - and ur eyes and mind are in peace.
Last edited: