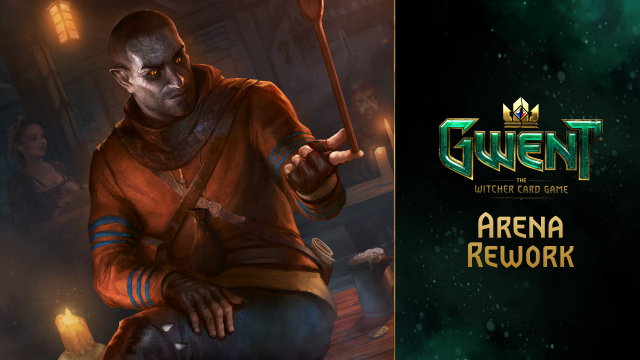 Hello everyone,
Today is the day we start talking about the future of Arena mode in GWENT. While we are very excited to get into the nitty gritty details of what is coming your way, there is one piece of house cleaning we need to prepare you for. What we want to do with Arena is so fundamentally significant that we decided it is best to rebrand and start fresh. What this essentially means is that we will be saying goodbye to Arena in order to eventually say hello to… Draft Mode!
To make the launch of this new mode a smooth and exciting experience for everyone, we need to prepare and make room for it.
With all this in mind, we will be closing the current Arena on October 13th
. We want to give you all the possibility to play a few more runs, or complete an existing one. This will also be your last opportunity to finish those Arena contracts you have been playing towards. Of course we will also remind you again once we are closer to the date.
We currently aim to release an open beta of our new Draft mode before the end of the year
but please bear with us if we fail to meet this deadline. We are working really hard to get this up and running as soon as possible but would rather wait than release something fundamentally broken. You can expect more details from us regarding our vision of Draft Mode in the near future.
This probably brings a few questions with it so we want to address the most prominent ones straight away.
Q: What will happen to my unfinished Arena run?
A: We will grant 150 Ore to players with unfinished Arena runs.
Q: What will happen to Mirror Shards?
A: Once we close the Arena, we will grant 150 Ore for every Mirror Shard left in your inventory and then remove the currency from the game.
Q: What will happen to the Arena contracts?
A: Unfinished contracts related to Arena will be hidden and won't affect overall contracts progression. Players who completed them earlier will be able to see them.
This should give you a good overview of the situation and we can't wait to get your feedback and engage in discussions that have the real possibility to shape the future of this mode.
If you have any questions on any of the above mentioned topics, let us know on our usual channels.
Stay safe and good luck in your games!
Last edited: