Dialogue NOW WITH POLL!
So, dialogue.
Just ran across this bit on Andromeda: "Instead of knowing if your actions will be fundamentally 'good or bad' ahead of time when triggering them, we now have more options labelled 'head', 'casual', 'heart' and 'professional'." Don't know if that means 4 choices or just 4 labels for X choices.
So, thoughts/hopes on CPunk dialogue?
I liked Fallout 4. Yep. And you can't say mean things about me because it's against the Rules. Ha-ha! BUT, the chat was not great in depth..or consistent theme.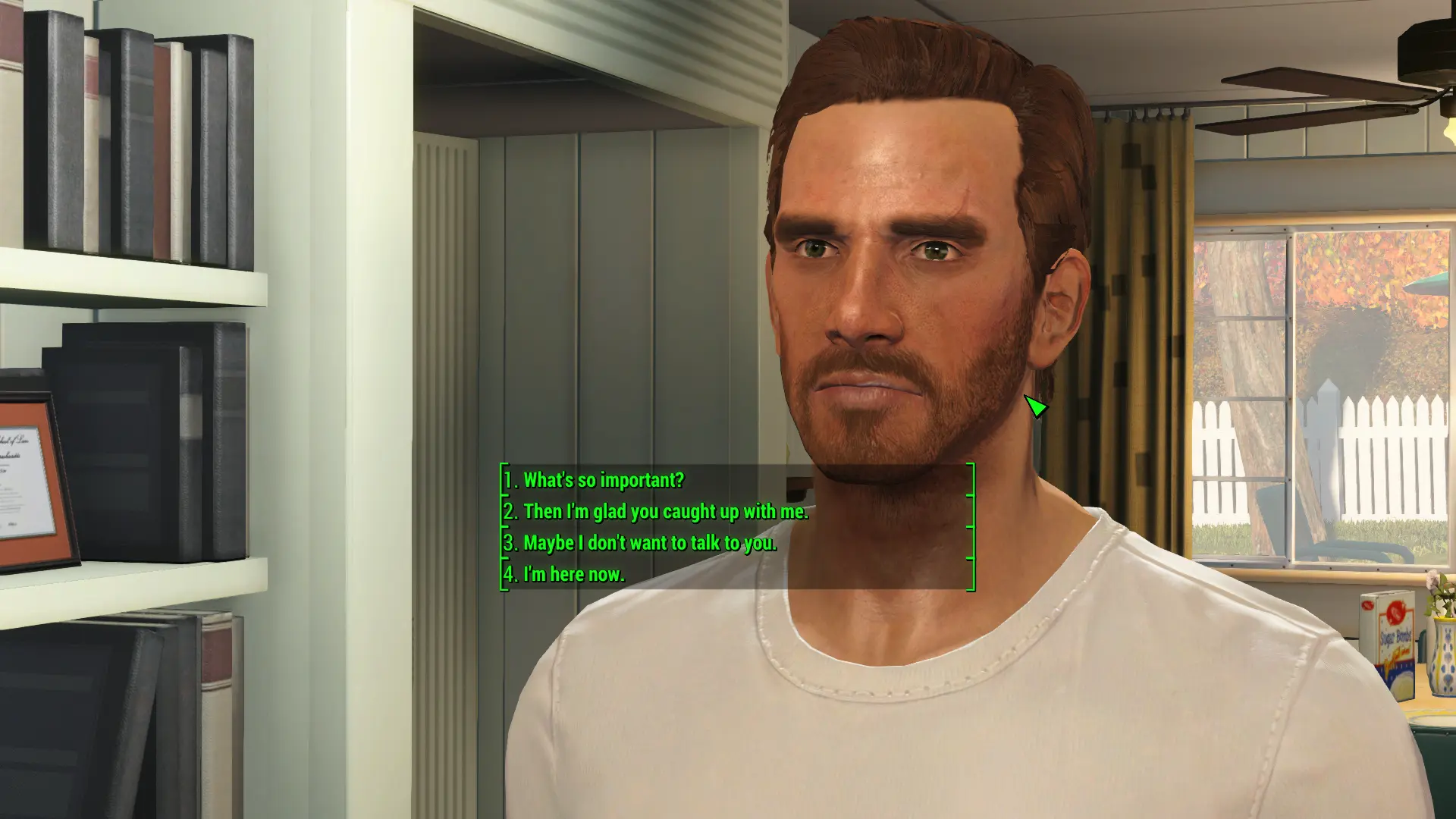 And that's with the dialogue fix that shows you what you are about to say. Otherwise, you got this amusing "mood" choice. Anyway.
Witcher 3, mind you, also had relatively limited options, but the writing was so much better. Note that Geralt doesn't need a lot of role-play convo choices - he's Geralt. Gruff, dry-humoured, scary at times. Smart, but shows it rarely.
Now, here are some from my favourite games. You may not agree, but I don't care because awesome. If you have a game to add, great! If I like it. Otherwise, pfui!
So hard to pick just one Planescape: Torment example. This isn't the longest selection, ( those run to 10 choices!) or the most words (waaay a lot) but I like it because it shows how you can change an NPCs perspective with words, ( some GOOD WRITIN there, too), or just ignore it and go back to the main question line. This is just a sub-category! So good. Some call PST a reading simulator. They will burn one day. They aren't totally wrong, though, and this kind of quality requires a fair bit of attention from the player.
Vampire Bloodlines. SO much good. Typically only up to 4 dialogue choices and fairly terse ones, but a lot of richness packed in. I've selected two examples. The first demonstrates how certain choices are skill-enabled and will have varying results. The second is an example of Malkavian-talk, a Clan in VTMB that is insane and sees, says and does things that other Clans just can't.
This last example is from Fallout 2. FO2 usually runs to 4-6 choices, has a fair bit of reading but less than PST. It also has the Stupid option. Unlike the Malkavian, any build can run a really low Intelligence and this will happen. Also happen if your Int drop from drugs or whatever. Note the translation. Just brilliant stuff.
Of some note from this is that the game will notice you are so stupid and interactions will reflect that, to a much greater degree than, say, the Malkavian option above.
These games all have a fair bit of writing in them, including Fallout 4, with over 100,000 lines of dialogue that took, according to Beth, "years to create." No idea how many words that is, but given some of the spoken dialogue in FO4, hundreds of thousands. Of course as we all know, fair bit was repetitive, too.
Witcher 3 ran to to about 450,000 words. Not too repetitive, either.
PST has about one million words. Thaaaat's a lot of reading.
So, what are your thoughts? How deep do you want CDPR to go? Are you okay with repetitve, shallow NPC chatter? Are you interested in a Stupid/Corporate/Cyberpsycho speech package option?
Last edited: