Nemomallo;n10300202 said:

So maybe try to look all old tiles of the nav mesh and only process the new unlocked tiles? It still is taking a long time, but should work.
Hmmm, can't make it work. The outcome from this "lock" tool is basically the same as from generating it with mostly unloaded world. Navigation in these areas becomes mostly ruined.
Nemomallo;n10300202 said:

What are the problems with the old nav mesh?
The old one is fine, that's why I don't want to touch it. Various annoying stuff appears with the new one. There are some missed meshes in the world. For example, one of the tunnels in LM raiders quest has almost bare walls and this weird hole. And there are more places like this. Some stairs may become unwalkable (I saw one, but there may be more). Not to mention the fact that you can't generate it without removing some stuff (or find another way to fix it), otherwise there will be a crash.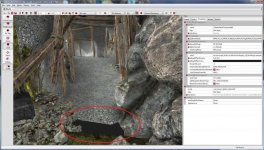 Last edited: