Hello Everyone,
I'm new and I haven't beat this game yet. I'm currently traveling between the lands of Velen (No Man's Land) and Novigrad. I need helps with looking for some of these missing ingredients for Alchemy. I have this crazy goal. My goal is to craft all Oils, Potions and Bombs to Relic before starting any missions/quests. My current character level is 17. If I managed to "Relic" all the Oils, Potions, and Bombs before starting any missions. Then im REALLY impressed with CD Project Red.
Im still missing one more Ekimmara Hide (Vampires), I know I can get one from Dragonslayer's Grotto Cave, Crookback Bog, Velen. But, I'm still looking for one more free roam Ekimmara. It gotta be somewhere. Unfortunately, Ekimmara in the Dragonslayer's Grotto Cave are not respawn-able.
I managed to find two Cave Troll Livers, One in Monster Den Cave near Travel Post Ursten, Novigard and another one near Travel Post Crossroads by the bridge in Bald Mountain, Velen. So, my next question is where can I find the THIRD rabid Rock Trolls (Ogroids)? Again, unfortunately, these Rock Trolls are not respawn-able.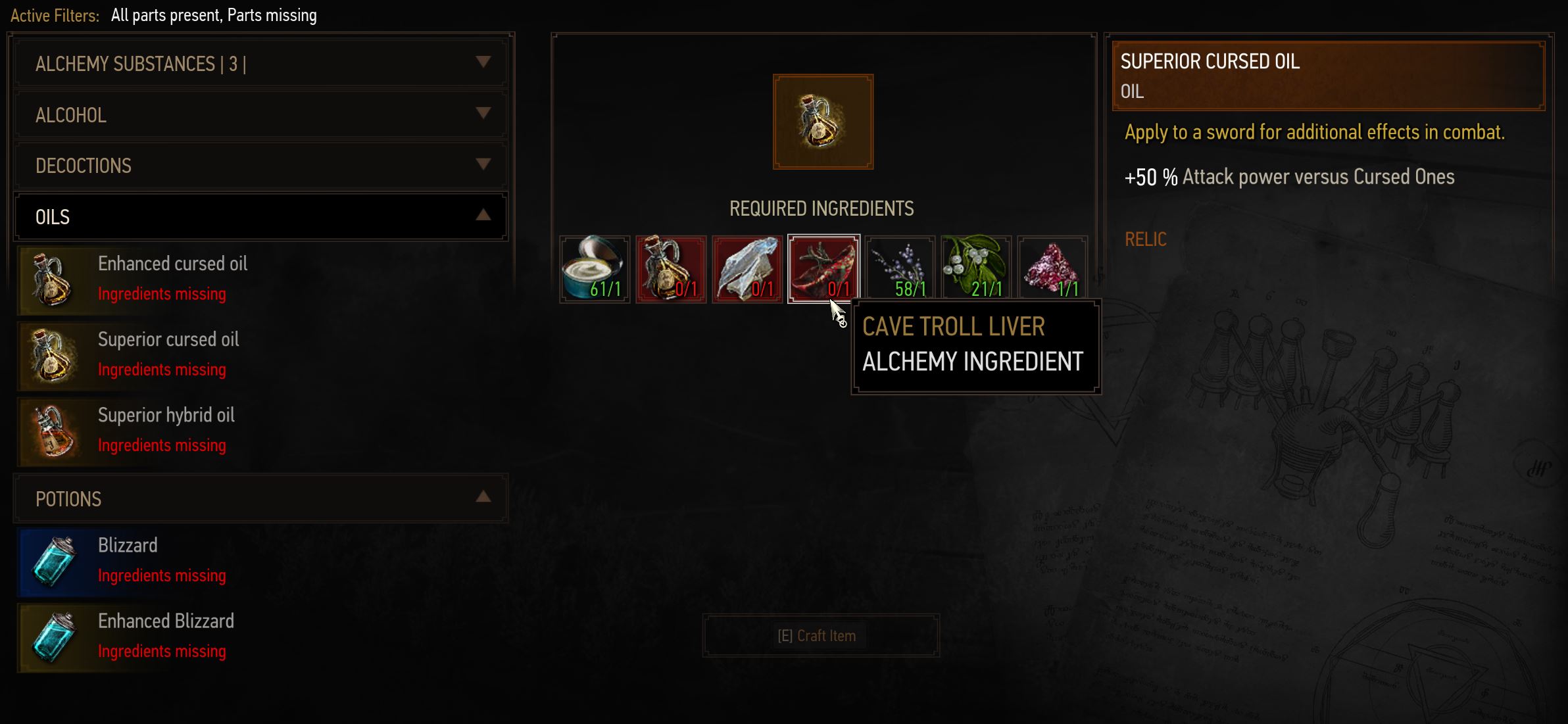 Im surprised to find one Erynia Eye (Hybrids -Erynias) ingredient in Novigard, Gustfield. I thought you can only get it from Erynias in The Skellige Isles. Im curious if I can still find one more! But where?
I haven't gone hunting for Golem's Heart yet. My question is, will they drop it? I still haven't unlocked Superior Blizzard Diagram yet ( I wonder at what character level). I'm guessing Superior Blizzard Diagram will ask for another Golem's Heart (Third one)
Im level 17 and I still haven't play with him yet. Soon, I will.
Questions / My Opinion / Suggestions:
It would be nice if these some of those monsters are respawn-able so I can complete collecting these missing ingredients im looking for.
Bestiary - Please look into Bestiary Monsters throughout the lands/Map because I hunted few new monsters, but I was not able to unlock Bestiary information from it.
Also, to be honest due to lack of Bestiary information, "Water Hags"(Necrophages) was very confusing by its skins of it colors because i couldn't tell if I was hunting for Water or Grave Hag for its Mutagen for decoction potions.
Add sorting to STASH BOX
There are some boozes cannot be transfer to STASH such as Redanian Lager, Kaedweni Stout, and Rivian Kriek.
Can Transfer Decoction potions to Stash? Sometimes, you don't really need all of them on Witcher or somehow make them invisible on Witcher
Why is there Drop option for Oils, Potions and Bombs? This can be very concerning if some of these monsters are not respawn-able if you want to get these missing ingredients from them
Please improve on convenient use of Blade Oils. To be honest, after playing so many hours on TW3 when it comes to reapplying Blade oils to swords can be really annoying. Even 60 + Charges is not enough. Most of the time you will be fighting same/same kind of monsters. I dont like to "pause" go to Inventory to reapply oils in the middle of the fight. I wonder if you can add quick slot for Blade Oils just like Consumables/Bombs/Pockets or set up automatically to add blade oils to swords vs human/monster's weakness....
General speaking of Diagrams. For example, I got crafting diagram - Mahakaman trousers, require level for me to wear it is 39...Thats pretty harsh for someone like me I'm level 17...i got a long way to go. I would rather unlock diagram close to my level or have diagrams scaling up to your/my level.
I would like to re-buy Temerian Armor Set because my character level increase. But, I noticed the level 4 remain the same on that armor set, it didn't scale up to my level like other weapon/armor shops do. I wonder if it the same thing for other DLC stuffs.
The World Map - How do I know if I did destroy Monster Nest or not or discover it? Same goes for other stuffs on World Map. I wonder if can add checklist on World Map, you did discover all monster nest, caves, signpost, Notice Board, bandit camps and etc in the area of Crow's Perch, Velen. I do like the idea of Place of Power icon faded it out when you discovered (already touch it) it on World Map.
I would like drop down menu remain CLOSED for Alchemy / Crafting / Books / Quests until you open them.
How do you untrack quest? I do not want to see them when I go exploring the World.
Please reorganize Quests drop down menu. They are all mixed together under completed drop down menu. I would like to see all White Orchard "quests" under White Orchard, Velen "Quests" under Velen and etc.
There is no Greater Brown Mutagen? I used a lot of general skills.
Suggestion to Pin more than once in Alchemy and Crafting diagram. I sort of had a bad experience going back and forth shopping for missing ingredients
Please don't make quests like A Barnful of Trouble Quest. it will disappear in a day if you don't do them right away. I don't get any kind of warning if this quest going to disappear or show any Days countdown on it on a World Map just because I happen to ride a horse past in the area to next area. Reason why i said this is because i had to start over little bit and back track it. Not only that our life is short, and I want to enjoy every story plots in the game 100%.
I hope i don't miss anything...oh yeah, there is this one of the kind Basilisks (Draconids) guarding Hidden Treasures just north of White Eagle Fort Post Sign, Velen. This Basilisks will WILD HUNT you down no matter how far away from you are from Hidden Treasure. I didn't have a choice but to find a way to kill it...otherwise, it will start killing everybody in its path. I was level 14 at the time trying to kill it with the help of city guards from Oxenfurt!
Thank you for reading,
LuckyCat