I want to share my opinion of how Gwent must look like, what a kind of game it must be to bring people fun and to bring success to you, developers.
1. Gwent's style
I had already written some thoughts of it
here
.
Style, I think, is the main thing. Because style determines the vision of the game, what influences not only players, but developers themselves, so it determines the way of game evolution. If you choose dark, dirty and foggy styling, than you choose a way to oblivion. Such a game will no have future, because it goes to darkness. Darkness and oblivion are synonyms. Only light things attract attention, only shiny things are alive and remembered. Dark things are dead and forgotten. That's why most popular games have light and clear style.
It's quite simple: just don't make disgusting style if you don't want to push people away. You can make disgusting monsters, BUT they must be inside of an acceptable frame and the acceptable overall game style.
Every style have the main idea. What idea do we have now? It's an idea of dark, dirty, mystical night battles in the open world. It's not a Gwent's and even card's style and idea. You are trying to make an RPG game in open world like Witcher with cards like monsters, but it is not what Gwent is supposed to be. Gwent was mostly a tavern game, which is played in a relaxing and quite light friendly tavern atmosphere. It was played not in the mud and even not on the shiny glade, because every card game requiers soft and comfort place for slaming cards. So the game boards must mostly be like tavern tables, public house velvet tables and another acceptable places. Noone wants to slam his card into the mud, even if this card is made of gold or bronze (what is a strange thing actually, cause such a deck is too wide and heavy for easy pocket carryng), because after the game you must clear all the cards and hands of mud. No, no, no! Cards and mud are incompatible, that's the reason why current Gwent looks very strange and disgusting. All card games are comfortable to play only at the tables when nothing will disturb players and their cards positions. Cards are looking good and essential with the table. And tables, or boards can be very different.
Another bad thing, as I already said, is a card's material. Noone in Witcher's universe made cards of metall. Metall is a money material. May be it's not bad idea to make a card more valueable, but it is very hard to place a color picture on metall in that times, so it is looking strange. And such a deck of 25 cards would be too big and heavy. It's another mismatch with reallity which makes game looking abnormal. You can use metall and gems for card decoration, but it must not look like thick metall plate. Card must look quite thin.
Another thing that I don't like in current style is card's frames. They are looking like we have a color picture, placed on metall, which is erased on borders. It's unclear view. OBT Gwent's cards had a strait metall board, which made card more definite. Current border is dirty, undefinite and unclear, just like you are really playing this cards in the mud.
And in general the whole game style looks undefinite and foggy, what is pushing people away. The style must be definite, understandable and recognizable, the game must have a face. Now I see just fog and darkness with some flashing lights in it.
I see the desirable Gwent's face in this video:
And in this pictures: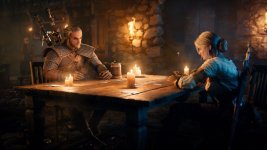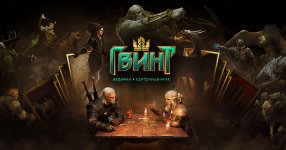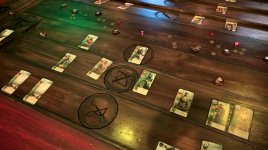 It's a tavern table, lightened with candles, and funny music and voices around, where you throw your thin cards decorated with metall and gems. Some of this cards are magical, cause they are animated. You can even explain their rarity because of their magical nature, that's why every animated card includes some magical dust in itself.
Gwent's style at most must be a tavern style with friendly light atmosphere, where you gather with friends to spend time with fun. May be Gwent can be played not only in the tavern, but still it is a game of many, so it must be light, open, clear and fun.
2. Realism
Everything in game must be realistic and logical to percieve it correctly. Rows for example.
First of all, I think that OBT's three rows was bad, because we had 6 rows of cards. It's too much, and that is why cards was very small, what was looking bad. Third row is unneded, because ballistas and catapults are devices that are ranged like mages and archers. So the third row was unneeded and not very logical complication. Now we have four rows of cards and cards are quite big. It's looking much better.
Second thing: I think that we must have more row dependency. Swordsmen must not be placed in a back row. What will they do there with the swords? How will they win a battle? Will they throw their swords in the enemy staying behind unarmored archers? The same thing with archers, mages and catapults, which must not be placed in front row, cause they are too vulnerable and will be easily destroyed by enemy's avangard. There are no such war commanders, who will do this in their right mind.
So almost every card must be strictly bound to its row. Some cards must have flexibility, but it must be logical. Why for example SK healer heals in a back row, but buffs in a front row? Where is logic here? Just remove such unlogical flexibility. Healers must never stand in the front.
Key thought here is: make cards bound to reallity better, better bound to the game's lore. Don't make cards like Nilf's arbalist, who removes a card from enemy's graveyard! What a madness is this? Why archers must do such things? Can you even imagine this way of action? I cannot. Don't make such mismatches with Witcher world's reality, cause it breaks game's impression.
3. Automatical mechanics
Orders, charges and artifacts must be removed, because they are too complicated and looks strange to a card game. I don't like any of this things. Reasons I wrote
here
.
All mechanics must work automatically. It is simpler, it is easier to realize and use on mobiles and it is just good for a card game.
Orders are breaking turn's order, they gives u too much value in one turn, what is breaking a normal game's flow.
Orders and charges are hard to use and it's unpleasant experience.
Orders and charges are too easy to control by opponent, so their user can loose to much value.
That's why they are unpopular.
If you remove orders and charges, you must remove artifacts or transform them to a special cards with "artifact" keyword like "organics" keyword.
I am standing for automechanics. User must just play a card on a some row or on a some card – and everything else must be done automatically. It's simple, it does not garbages you with additional control and do not dissattract from thinking.
I think, most of the artifacts and other order and charge cards can be replaced by their automatical version.
4. Interesting mechanics.
Most current card's mechanics are too stupid: buff or damage unit. Add more interesting mechanics, which are close to Witcher lore. Game must bring fun, and fun is not in stupidly damaging or buffing units. There must be more interesting conditions of card's triggering, more shocking features, so you can gather many interesting combos.
5. Bronze quantity and synergies.
In my opinion, bronze cards represent common people, spells, weather and so on. Golden ones represent individuals, charismatic persons, unusual spells and catastrophic weather.
Golden cards are strong by their individual power, personal abilities. The bronze ones are strong in massivity. Simply saying, golds' power is in quality, bronzes' power is in quantity.
That's why bronzes must have good synergies to make them valuable and they must have 3 pieces, or even 4 pieces to show their massivity and numbers. Bronzes are the commons, the are soldiers, a people. Their power is in synergy with each other, not in quality of one card by itself. Cause common people are the same: one common man means nothing, but when you have a bunch of common men, a trained soldiers, like temerian stripes, for example, they are power, more power than just you connect them one by one. You made some of this synergies with 4p vampires in Monsters and 4p maidens in NR, who acts better when together.
Golden cards in a contrast are the personalities, that's why they are the only ones. Their power is in their personal abilities and originality. Goldens are nobility, bronzes are the common people, a nation. Everyone must be respected in it's own way.
For example, there must not be just a 2hp wolf hitting by 2. Wolves are the power in a pack. So they must have some wolfpack synergy: for example, the power of their hits must grow bigger with any additional wolf on the board. It's logical and good looking. In this way bronzes will never be just a useless fillers. They can win you a game! They can be a main part of winning strategy as it was in OBT. Now bronzes is just a fillers and you don't wish to see them in your hand. It's not good.
Finding bronze's synergies is not less, but may be even more interesting then finding golden cards. I remember those times when I searched for possibilities to pull out my bronze stripes or cavalry of Temeria. It was so good feeling when they came out of the deck together! So, deffenetly, bronzes must be in bigger numbers then two and must play a much better role in the game thanks to their synergy.
P.S. I have another two points, but I cannot write it here because of 10 000 chars restriction, so I write it after first another people's comments, if any.
Last edited: