Patched wcc_lite for faster startup
TLDR:
Dowload the zip
and replace wcc_lite.exe to enjoy a shorter wait for
wcc_lite help export
to print the help.
Monitoring wcc_lite with
Procmon
shows that it tries to connect to a server and then after failing waits 1.3 seconds and tries again, 8 more times. The address is configured to be CDPRS-MSSQL in bin\config\r4game\legacy\base\user.ini under the modkit installation directory. The Procmon screenshot is after I mapped CDPRS-MSSQL to 127.0.0.1 in my hosts file to allow the name to resolve.
Procmon gives the call stack for the UDP send, so taking the last address in wcc_lite in the call stack, I NOP-ed out that function using
x64dbg
and now on my machine wcc_lite starts in one or two seconds instead of twenty.
Because uncook exports only textures and not models, exporting multiple models requires invoking wcc_lite once for each w2mesh file, so this should make exporting about ten times faster.
If you aren't comfortable running random executables from forum posts you can get x64dbg and apply the patch yourself to wcc_lite. Run x64dbg then File -> Open, choose wcc_lite. File -> Patch ..., click import, choose the patch.1337 file. Click patch file, then a save dialog pops up to save the patched file.
The patched .exe and patch.1337 are here.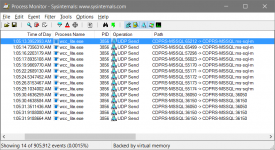 Last edited: