(Note: I don't play the english version of Gwent, so please excuse wrong terminology or weak explanations)
I just had a season match. It started cautious. At one point, in the lead with 18 or so points I passed.
That was the starting signal for something amazing! He/she didn't pass, but he/she also didn't stop. Card after card went to the battlefield and it started to get interesting, when his heal charge tower got to crazy values. At the end of that round, the strength of that tower and the charges were at numbers I didn't think was possible. But it didn't end there. The last card gave that tower the "tower icon" (resilient?), but it didn't revert to its initial state, kept both, boosted power and charges.
I already had lost the game at that point. But the numbers were so high that I simply was curious, how much higher it could go. So I played a junk card, then watched the other side gain power, point after point during the allowed timespan. Then that procedure repeated. Unfortunately, at the time of the screenshot, Gwent crashed on his/her side and the victory was rewarded to me. It was mindblowing to watch this! Awesome move!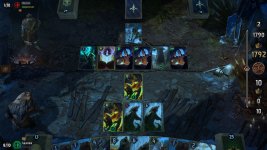 Mod edit: removed the player's name, because of privacy. tulamide edit: @mod just did a third of the job. i removed the other two mentionings of the name!
Last edited: